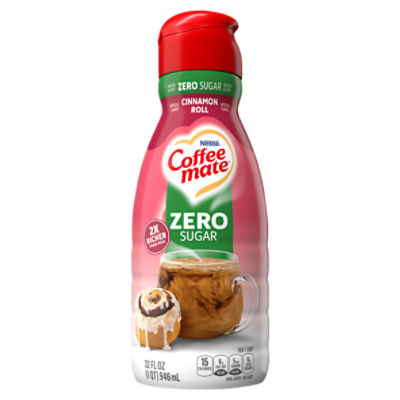 CML Zero Sugar Cinnamon Roll, , 32 Fluid ounce
$3.50
was $4.29
$0.11/fl oz
Sale Information
On Sale!
Sales price valid from 10/2/2022 until 10/8/2022
Description
CML Zero Sugar Cinnamon Roll, 32 fl oz Coffee Creamer Reduced Calorie* *55% Fewer Calories than Regular Flavored Coffee Mate®. America's #1 Creamer† †Based on total dollar sales by brand. Dessert for Every Day What better way to start your day than with the taste of an Ooey-Gooey fresh-bakes cinnamon roll. Calorie content has been reduced from 35 to 15 calories per serving. Thoughtful Portion™ Use in moderation for your perfect cup. 1 Tbsp = 15 calories
Ingredients
Water; Corn Syrup**; Vegetable Oil (High Oleic Soybean and/or High Oleic Canola); Less than 2% of Micellar Casein (a Milk derivative)***, Maltodextrin**, Mono- and Diglycerides, Dipotassium Phosphate, Carrageenan, Natural and Artificial Flavor, Sucralose, Acesulfame Potassium (non-nutritive sweetener); **Adds a trivial amount of Sugar; ***Not a source of Lactose;
Nutrition Facts
servings pr container
Product Number: 00050000438099
Sale Information
On Sale!
Sales price valid from 10/2/2022 until 10/8/2022
Description
CML Zero Sugar Cinnamon Roll, 32 fl oz Coffee Creamer Reduced Calorie* *55% Fewer Calories than Regular Flavored Coffee Mate®. America's #1 Creamer† †Based on total dollar sales by brand. Dessert for Every Day What better way to start your day than with the taste of an Ooey-Gooey fresh-bakes cinnamon roll. Calorie content has been reduced from 35 to 15 calories per serving. Thoughtful Portion™ Use in moderation for your perfect cup. 1 Tbsp = 15 calories
Product Number: 00050000438099
Ingredients
Water; Corn Syrup**; Vegetable Oil (High Oleic Soybean and/or High Oleic Canola); Less than 2% of Micellar Casein (a Milk derivative)***, Maltodextrin**, Mono- and Diglycerides, Dipotassium Phosphate, Carrageenan, Natural and Artificial Flavor, Sucralose, Acesulfame Potassium (non-nutritive sweetener); **Adds a trivial amount of Sugar; ***Not a source of Lactose;
Nutrition Facts
servings pr container
Product Number: 00050000438099