Search results
Reynolds Wrap 175 Sq Ft Everyday Aluminum Foil, 2 count, 1 Each, $18.49
• 175 SQUARE FOOT ALUMINUM ROLL—This package contains two Reynolds Wrap aluminum foil roll measuring 175 feet long by 12 inches wide (350 square feet total).nnFor over 70 years, home cooks like you have trusted Reynolds Wrap Aluminum Foil's strength, versatility & durability all throughout their home. Reynolds Wrap can be used to protect food in all steps of the cooking process, & helps keep leftovers fresh when the cooking's done. Use Reynolds aluminum foil to line baking pans & sheets for easy clean-up, or to wrap food while roasting or baking to seal in flavor and moisture. The Easy Tear Edge makes it easy to tear off the right size piece of baking foil to protect your leftovers from freezer burn. Wrap meats and veggies in a foil packet for an easy, flavorful meal in the oven or on the grill, or use an aluminum roll in a variety of kid-friendly crafts. With so much versatility, plus over 70 years of trusted quality, you can rely on Reynolds Wrap Aluminum Foil to make prepping, cooking & clean-up easier—& more fun!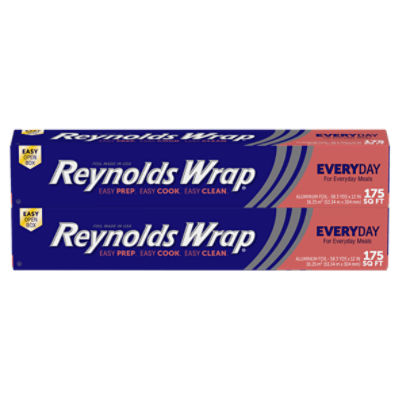 Reynolds Wrap 175 Sq Ft Everyday Aluminum Foil, 2 count, 1 Each
Open Product Description
Offer Valid: Dec 1st - Dec 8th
Can't find what you're looking for?