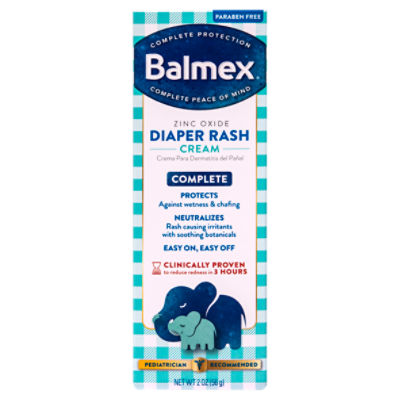 Balmex Diaper Rash Cream, 2 Ounce
Sale Information
On Sale!
Sales price valid from 12/4/2022 until 12/10/2022
Description
Balmex 2 oz. Diaper Rash Cream Complete Diaper Rash Protection: Balmex works quickly to heal diaper rash and creates a highly effective, long lasting barrier that protects against wetness and chafing Your baby's diaper change is not complete without Balmax Complete. Only Balmax gives you the complete package for your baby's comfort and your peace of mind: Benefits for Your Baby Provides a moisture barrier & protects against chafing - Balmex® Complete: ✓; Other Diaper Rash Creams: ✓ Neutralizes rash-causing irratants with soothing botanicals - Balmex® Complete: ✓ Clinically proven to reduce redness in just 3 hours* - Balmex® Complete: ✓ *Only Balmex is clinically proven to reduce multiple symptoms of diaper rash in 3 hours. Data on file. Balmex prevents rash before it starts by forming a protective barrier and neutralizing rash-causing irritants with proven botanical extracts. And Balmex works quickly to soothe and heal an existing rash. It's clinically proven to reduce redness in just 3 hours. Gentle on baby's delicate skin and safe for everyday use, It's easy to apply and remove. So you and your baby can completely enjoy each precious moment. Drug Facts Active ingredient - Purpose Zinc oxide 11.3% - Skin protectant Uses • Helps treat and prevent diaper rash • protects chafed skin due to diaper rash and helps seal out wetness
Ingredients
Inactive Ingredients: Beeswax, Benzoic Acid, Dimethicone, Glycine Soja (Soybean) Oil, Magnesium Aspartate, Microcrystalline Wax, Mineral Oil, Oenothera Biennis (Evening Primrose) Seed Extract, Olea Europaea (Olive) Leaf Extract, Panthenol, Peruvian Balsam, Phenoxyethanol, Potassium Aspartate, Potassium Hydroxide, Sarcosine, Sodium Cocoyl Amino Acids, Sorbitan Sesquioleate, Synthetic Beeswax, Tocopherol, Water;
Product Number: 00030103040009
Sale Information
On Sale!
Sales price valid from 12/4/2022 until 12/10/2022
Description
Balmex 2 oz. Diaper Rash Cream Complete Diaper Rash Protection: Balmex works quickly to heal diaper rash and creates a highly effective, long lasting barrier that protects against wetness and chafing Your baby's diaper change is not complete without Balmax Complete. Only Balmax gives you the complete package for your baby's comfort and your peace of mind: Benefits for Your Baby Provides a moisture barrier & protects against chafing - Balmex® Complete: ✓; Other Diaper Rash Creams: ✓ Neutralizes rash-causing irratants with soothing botanicals - Balmex® Complete: ✓ Clinically proven to reduce redness in just 3 hours* - Balmex® Complete: ✓ *Only Balmex is clinically proven to reduce multiple symptoms of diaper rash in 3 hours. Data on file. Balmex prevents rash before it starts by forming a protective barrier and neutralizing rash-causing irritants with proven botanical extracts. And Balmex works quickly to soothe and heal an existing rash. It's clinically proven to reduce redness in just 3 hours. Gentle on baby's delicate skin and safe for everyday use, It's easy to apply and remove. So you and your baby can completely enjoy each precious moment. Drug Facts Active ingredient - Purpose Zinc oxide 11.3% - Skin protectant Uses • Helps treat and prevent diaper rash • protects chafed skin due to diaper rash and helps seal out wetness
Product Number: 00030103040009
Ingredients
Inactive Ingredients: Beeswax, Benzoic Acid, Dimethicone, Glycine Soja (Soybean) Oil, Magnesium Aspartate, Microcrystalline Wax, Mineral Oil, Oenothera Biennis (Evening Primrose) Seed Extract, Olea Europaea (Olive) Leaf Extract, Panthenol, Peruvian Balsam, Phenoxyethanol, Potassium Aspartate, Potassium Hydroxide, Sarcosine, Sodium Cocoyl Amino Acids, Sorbitan Sesquioleate, Synthetic Beeswax, Tocopherol, Water;
Product Number: 00030103040009