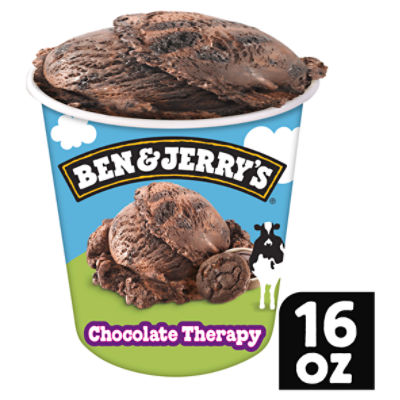 Ben & Jerry's Vermont's Finest Chocolate Therapy, Ice Cream, 16 Ounce
Sale Information
On Sale!
Sales price valid from 10/2/2022 until 10/8/2022
Description
Ben & Jerry's Vermont's Finest Chocolate Therapy Ice Cream, 16 oz Chocolate Ice Cream with Chocolate Cookies & Swirls of Chocolate Pudding Ice cream You know how sometimes you just want to scream? You could just scream, or you could grab a spoon, get a grip, and treat yourself to some primal s'cream therapy of the sublimest chocolate kind. (Euphoria may occur upon tasting.)
Ingredients
Cream; Liquid Sugar (Sugar, Water); Skim Milk; Water; Cocoa (processed with Alkali); Wheat Flour; Sugar; Soybean Oil; Brown Sugar; Egg Yolks; Chocolate Liquor; Cocoa; Honey; Guar Gum; Cocoa Butter; Vanilla Extract; Salt; Baking Soda; Natural Flavors; Soy Lecithin; Carrageenan;
Nutrition Facts
servings pr container
Product Number: 00076840220311
Sale Information
On Sale!
Sales price valid from 10/2/2022 until 10/8/2022
Description
Ben & Jerry's Vermont's Finest Chocolate Therapy Ice Cream, 16 oz Chocolate Ice Cream with Chocolate Cookies & Swirls of Chocolate Pudding Ice cream You know how sometimes you just want to scream? You could just scream, or you could grab a spoon, get a grip, and treat yourself to some primal s'cream therapy of the sublimest chocolate kind. (Euphoria may occur upon tasting.)
Product Number: 00076840220311
Ingredients
Cream; Liquid Sugar (Sugar, Water); Skim Milk; Water; Cocoa (processed with Alkali); Wheat Flour; Sugar; Soybean Oil; Brown Sugar; Egg Yolks; Chocolate Liquor; Cocoa; Honey; Guar Gum; Cocoa Butter; Vanilla Extract; Salt; Baking Soda; Natural Flavors; Soy Lecithin; Carrageenan;
Nutrition Facts
servings pr container
Product Number: 00076840220311