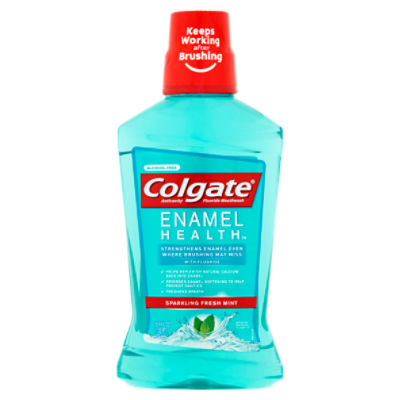 Colgate Enamel Health Sparkling Fresh Mint, Mouthwash, 16.9 Fluid ounce
$3.99
was $4.79
$0.24/fl oz
Sale Information
On Sale!
Sales price valid from 12/4/2022 until 12/10/2022
Description
Colgate Enamel Health Sparkling Fresh Mint Mouthwash, 16.9 fl oz Anticavity Fluoride Mouthwash • Strengthens enamel even where brushing may miss • To promote healthy teeth and stronger enamel, use after brushing with Colgate® Enamel Health™ toothpaste and toothbrush Use Aids in the prevention of dental cavities Drug Facts Active ingredient - Purpose Sodium fluoride 0.02% (0.01% w/v fluoride ion) - Anticavity
Ingredients
Inactive Ingredients: Water, Glycerin, Propylene Glycol, Sorbitol, Poloxamer 338, Poloxamer 407, Flavor, PEG-40 Castor Oil, Phosphoric Acid, Sodium Saccharin, Cetylpyridinium Chloride, Disodium Phosphate, Potassium Sorbate, Sucralose, FD&C Green No. 3;
Product Number: 00035000671585
Sale Information
On Sale!
Sales price valid from 12/4/2022 until 12/10/2022
Description
Colgate Enamel Health Sparkling Fresh Mint Mouthwash, 16.9 fl oz Anticavity Fluoride Mouthwash • Strengthens enamel even where brushing may miss • To promote healthy teeth and stronger enamel, use after brushing with Colgate® Enamel Health™ toothpaste and toothbrush Use Aids in the prevention of dental cavities Drug Facts Active ingredient - Purpose Sodium fluoride 0.02% (0.01% w/v fluoride ion) - Anticavity
Product Number: 00035000671585
Ingredients
Inactive Ingredients: Water, Glycerin, Propylene Glycol, Sorbitol, Poloxamer 338, Poloxamer 407, Flavor, PEG-40 Castor Oil, Phosphoric Acid, Sodium Saccharin, Cetylpyridinium Chloride, Disodium Phosphate, Potassium Sorbate, Sucralose, FD&C Green No. 3;
Product Number: 00035000671585