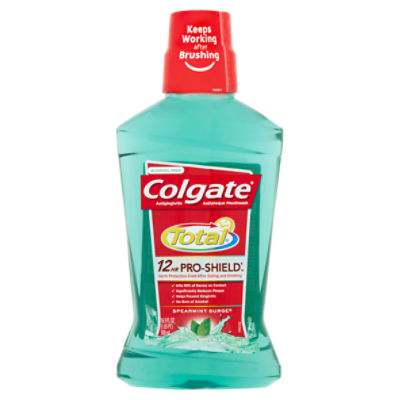 Colgate Total Spearmint Surge, Mouthwash, 16.9 Fluid ounce
$3.99
was $4.99
$0.24/fl oz
Sale Information
On Sale!
Sales price valid from 12/4/2022 until 12/10/2022
Description
Colgate Total Spearmint Surge Mouthwash, 16.9 fl oz Antigingivitis Antiplaque Mouthwash 12hr Pro-Shield™* *Protection against plaque and gingivitis germs when used after brushing • 12-hr protection against germs, even after eating and drinking • Kills germs that cause bad breath, plaque and gingivitis • To promote healthy teeth and gums, use after brushing with Colgate Total® Advanced Toothpaste and Toothbrush Uses • helps prevent and reduce plaque and gingivitis • helps control plaque bacteria that contribute to the development of gingivitis, an early form of gum disease, and bleeding gums Drug Facts Active ingredient - Purpose Cetylpyridinium chloride 0.075% - Antigingivitis/antiplaque
Ingredients
Inactive Ingredients: Water, Glycerin, Propylene Glycol, Sorbitol, Poloxamer 407, Flavor, Potassium Sorbate, Sodium Saccharin, Citric Acid, Sucralose, FD&C Green No. 3, FD&C Yellow No. 6;
Product Number: 00035000671257
Sale Information
On Sale!
Sales price valid from 12/4/2022 until 12/10/2022
Description
Colgate Total Spearmint Surge Mouthwash, 16.9 fl oz Antigingivitis Antiplaque Mouthwash 12hr Pro-Shield™* *Protection against plaque and gingivitis germs when used after brushing • 12-hr protection against germs, even after eating and drinking • Kills germs that cause bad breath, plaque and gingivitis • To promote healthy teeth and gums, use after brushing with Colgate Total® Advanced Toothpaste and Toothbrush Uses • helps prevent and reduce plaque and gingivitis • helps control plaque bacteria that contribute to the development of gingivitis, an early form of gum disease, and bleeding gums Drug Facts Active ingredient - Purpose Cetylpyridinium chloride 0.075% - Antigingivitis/antiplaque
Product Number: 00035000671257
Ingredients
Inactive Ingredients: Water, Glycerin, Propylene Glycol, Sorbitol, Poloxamer 407, Flavor, Potassium Sorbate, Sodium Saccharin, Citric Acid, Sucralose, FD&C Green No. 3, FD&C Yellow No. 6;
Product Number: 00035000671257