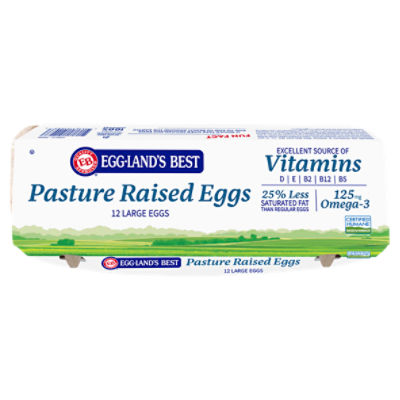 Egg Land's Best Large Brown Pasture Raised, Eggs, 12 Each
Sale Information
On Sale!
Sales price valid from 11/27/2022 until 12/3/2022
Description
Egg-Land's Best Large Brown Pasture Raised Eggs, 12 count, 24 oz Our hens have plenty of room to roam outside and can sleep in spacious barns at night, keeping them happy and healthy! They are fed a proprietary, all-vegetarian diet with no animal fats or animal by-products, and no added antibiotics or hormones*. *No hormones are used in the production of shell eggs. *No antibiotics were administered to the laying hen's diet (feed or water), or during the egg laying process. Compared to ordinary eggs, Eggland's Best Pasture Raised Eggs give you: 10x More Vitamin E 25% Less Saturated Fat 6x More Vitamin D More than Double the Omega-3
Nutrition Facts
servings pr container
Product Number: 00715141514933
Sale Information
On Sale!
Sales price valid from 11/27/2022 until 12/3/2022
Description
Egg-Land's Best Large Brown Pasture Raised Eggs, 12 count, 24 oz Our hens have plenty of room to roam outside and can sleep in spacious barns at night, keeping them happy and healthy! They are fed a proprietary, all-vegetarian diet with no animal fats or animal by-products, and no added antibiotics or hormones*. *No hormones are used in the production of shell eggs. *No antibiotics were administered to the laying hen's diet (feed or water), or during the egg laying process. Compared to ordinary eggs, Eggland's Best Pasture Raised Eggs give you: 10x More Vitamin E 25% Less Saturated Fat 6x More Vitamin D More than Double the Omega-3
Product Number: 00715141514933
Nutrition Facts
servings pr container
Product Number: 00715141514933