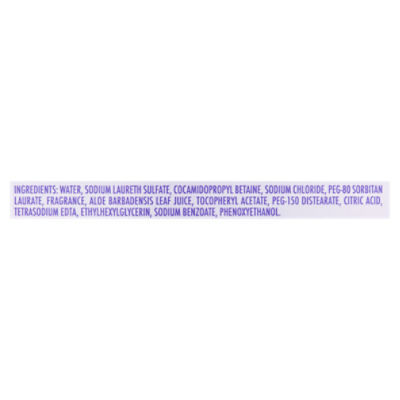 Mr. Bubble Calm & Sleep, Bubble Bath, 36 Fluid ounce
$5.29
was $6.29
$0.15/fl oz
Sale Information
On Sale!
Sales price valid from 9/18/2022 until 9/24/2022
Description
Mr. Bubble Calm & Sleep Bubble Bath, 36 fl oz Why You Will Love It... Dye & paraben free Makes Tons of bubbles! Enriched with aloe & vitamin E Includes a soothing fragrance blend of lavender, eucalyptus & chamomile Add lots of bubbling fun to the bedtime routine with Mr. Bubble Calm & Sleep Bubble Bath. Your little ones will love playing in the mountains of bubbles, while the calming scent will help prepare them for a good night's sleep. Plus, the moisturizing blend of aloe and vitamin E will leave their skin feeling soft and hydrated. Mr. Bubble's Bedtime Routine: ✓ warm bubble bath ✓ soft pajamas ✓ bedtime story ✓ a kiss goodnight
Ingredients
Water; Sodium Laureth Sulfate; Cocamidopropyl Betaine; Sodium Chloride; PEG-80 Sorbitan Laurate; Fragrance; Aloe Barbadensis Leaf Juice; Tocopheryl Acetate; PEG-150 Distearate; Citric Acid; Tetrasodium EDTA; Ethylhexylglycerin; Sodium Benzoate; Phenoxyethanol;
Nutrition Facts
servings pr container
Product Number: 00735303295197
Sale Information
On Sale!
Sales price valid from 9/18/2022 until 9/24/2022
Description
Mr. Bubble Calm & Sleep Bubble Bath, 36 fl oz Why You Will Love It... Dye & paraben free Makes Tons of bubbles! Enriched with aloe & vitamin E Includes a soothing fragrance blend of lavender, eucalyptus & chamomile Add lots of bubbling fun to the bedtime routine with Mr. Bubble Calm & Sleep Bubble Bath. Your little ones will love playing in the mountains of bubbles, while the calming scent will help prepare them for a good night's sleep. Plus, the moisturizing blend of aloe and vitamin E will leave their skin feeling soft and hydrated. Mr. Bubble's Bedtime Routine: ✓ warm bubble bath ✓ soft pajamas ✓ bedtime story ✓ a kiss goodnight
Product Number: 00735303295197
Ingredients
Water; Sodium Laureth Sulfate; Cocamidopropyl Betaine; Sodium Chloride; PEG-80 Sorbitan Laurate; Fragrance; Aloe Barbadensis Leaf Juice; Tocopheryl Acetate; PEG-150 Distearate; Citric Acid; Tetrasodium EDTA; Ethylhexylglycerin; Sodium Benzoate; Phenoxyethanol;
Nutrition Facts
servings pr container
Product Number: 00735303295197