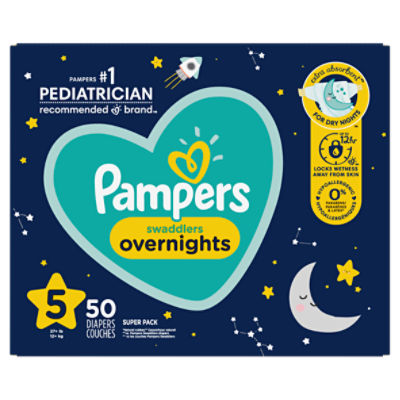 Pampers Swaddlers Overnight Diapers Size 5 50 Count
$27.99
was $32.99
$0.56 each
Sale Information
On Sale!
Sale price valid from 2/5/2023 until 2/11/2023
Description
Pampers Swaddlers Overnight Diapers Size 5 50 CountnA restful night's sleep starts with the right protection. For dry nights, Pampers Swaddlers Overnights arendesigned with extra absorbency to lock wetness away from skin for up to 12 hours. Designed to keepnskin dry and healthy, Pampers Swaddlers Overnights are the only nighttime diaper with a BreatheFree LinerTM that wicks away wetness and mess, allowing your baby's skin to breathe. Our Soft Flexi-Sides provide a soft cushiony stretch for a secure and comfortable fit. Plus, they feature eight nighttime prints for the sweetest dreams. For protection that's gentle on your baby's skin, Pampers Swaddlers Overnights are hypoallergenic and free of parabens and latex.*n nFor trusted protection, trust Pampers, the #1 U.S. Pediatrician Recommended Brand.n*Natural rubbernnWrap&Protect™ WaistbandnGently wraps to help protect skin from irritationnnBreatheFree™ linernWicks away wetness, allowing skin to breathennWrap&Protect™ leg barrerisnProtect where leaks happen mostnnUltra-Soft Absorbent LayersnHelps protect skin from wetness & irritationnnLockaway Channels™nLocks away wetness for dry, healthy skinnnPampers Wetness Indicator™
Ingredients
Petrolatum; Stearyl Alcohol; Aloe Barbadensis Leaf Extract;
Product Number: 00037000775836
Sale Information
On Sale!
Sale price valid from 2/5/2023 until 2/11/2023
Description
Pampers Swaddlers Overnight Diapers Size 5 50 CountnA restful night's sleep starts with the right protection. For dry nights, Pampers Swaddlers Overnights arendesigned with extra absorbency to lock wetness away from skin for up to 12 hours. Designed to keepnskin dry and healthy, Pampers Swaddlers Overnights are the only nighttime diaper with a BreatheFree LinerTM that wicks away wetness and mess, allowing your baby's skin to breathe. Our Soft Flexi-Sides provide a soft cushiony stretch for a secure and comfortable fit. Plus, they feature eight nighttime prints for the sweetest dreams. For protection that's gentle on your baby's skin, Pampers Swaddlers Overnights are hypoallergenic and free of parabens and latex.*n nFor trusted protection, trust Pampers, the #1 U.S. Pediatrician Recommended Brand.n*Natural rubbernnWrap&Protect™ WaistbandnGently wraps to help protect skin from irritationnnBreatheFree™ linernWicks away wetness, allowing skin to breathennWrap&Protect™ leg barrerisnProtect where leaks happen mostnnUltra-Soft Absorbent LayersnHelps protect skin from wetness & irritationnnLockaway Channels™nLocks away wetness for dry, healthy skinnnPampers Wetness Indicator™
Product Number: 00037000775836
Ingredients
Petrolatum; Stearyl Alcohol; Aloe Barbadensis Leaf Extract;
Product Number: 00037000775836