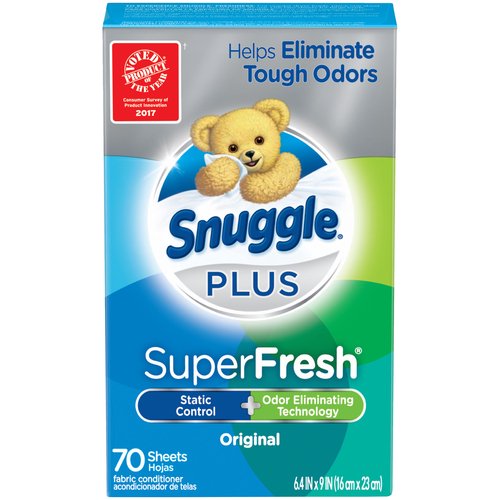 Snuggle Plus SuperFresh Original Fabric Conditioner Sheets, 70 count
Sale Information
On Sale!
Sales price valid from 1/22/2023 until 1/28/2023
Description
Snuggle Plus SuperFresh Original Fabric Conditioner Sheets, 70 count Voted Product of the Year® Consumer Survey of Product Innovation 2017† †Winner Fabric Conditioner category. Survey of 40,000 people by TNS. Enjoy the Snuggle® benefits you love like static control and lint prevention plus specially formulated odor eliminating technology and stronger, long-lasting freshness.* + Odor Eliminating Technology • Designed to block tough odor • Stronger, long lasting freshness* *vs. Snuggle® Blue Sparkle® Sheets
Product Number: 00072613463091
Sale Information
On Sale!
Sales price valid from 1/22/2023 until 1/28/2023
Description
Snuggle Plus SuperFresh Original Fabric Conditioner Sheets, 70 count Voted Product of the Year® Consumer Survey of Product Innovation 2017† †Winner Fabric Conditioner category. Survey of 40,000 people by TNS. Enjoy the Snuggle® benefits you love like static control and lint prevention plus specially formulated odor eliminating technology and stronger, long-lasting freshness.* + Odor Eliminating Technology • Designed to block tough odor • Stronger, long lasting freshness* *vs. Snuggle® Blue Sparkle® Sheets
Product Number: 00072613463091
Product Number: 00072613463091