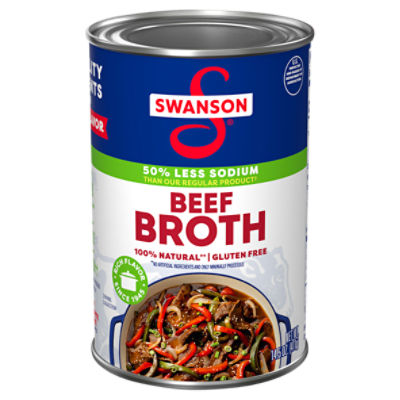 Swanson 50% Less Sodium Beef Broth, 14.5 oz
Sale Information
On Sale!
Sales price valid from 1/29/2023 until 2/4/2023
Description
Swanson 50% Less Sodium Beef Broth, 14.5 oz 50% Less Sodium than Our Regular Product† †This product contains 720mg sodium per 1 can vs. 1450mg sodium per 1 can in regular Swanson® Beef Broth. 100% Natural** **No Artificial Ingredients and Only Minimally Processed No MSG Added†† ††Except for the Small Amount Naturally Occurring in Yeast Extract
Ingredients
Beef Stock; Salt; Natural Flavoring; Yeast Extract; Mirepoix (Carrots, Celery, Onions); Cane Sugar;
Nutrition Facts
servings pr container
Product Number: 00051000142979
Sale Information
On Sale!
Sales price valid from 1/29/2023 until 2/4/2023
Description
Swanson 50% Less Sodium Beef Broth, 14.5 oz 50% Less Sodium than Our Regular Product† †This product contains 720mg sodium per 1 can vs. 1450mg sodium per 1 can in regular Swanson® Beef Broth. 100% Natural** **No Artificial Ingredients and Only Minimally Processed No MSG Added†† ††Except for the Small Amount Naturally Occurring in Yeast Extract
Product Number: 00051000142979
Ingredients
Beef Stock; Salt; Natural Flavoring; Yeast Extract; Mirepoix (Carrots, Celery, Onions); Cane Sugar;
Nutrition Facts
servings pr container
Product Number: 00051000142979