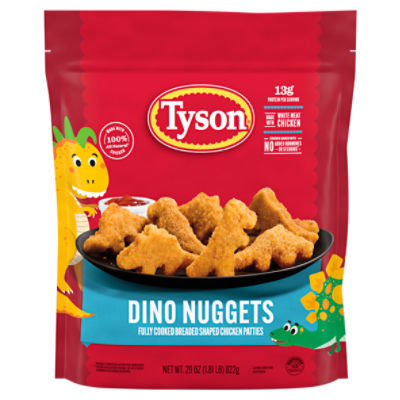 Tyson Fully Cooked Frozen Fun Chicken Nuggets, 29 oz
Sale Information
On Sale!
Sale price valid from 1/29/2023 until 2/4/2023
Description
Tyson Fully Cooked Frozen Fun Chicken Nuggets, 29 oz Made with chicken raised with no antibiotics ever and no fillers, added hormones or steroids, Tyson Fully Cooked Fun Chicken Nuggets are a delicious frozen entree addition to any meal. Tyson dinosaur shaped chicken nuggets are made with all natural* white meat chicken with no preservatives, then breaded with whole grain breading and seasoned to perfection. *Minimally processed, no artificial ingredients. Breaded Shaped Chicken Patties No Added Hormones or Steroids** **Federal regulations prohibit the use of added hormones or steroids in chicken
Ingredients
Boneless, Skinless Chicken Breasts with Rib Meat; Water; Whole Wheat Flour; Wheat Flour; Contains 2% or less of the following: Corn Starch, Dried Garlic, Dried Onion, Dried Yeast, Flavorings, Natural Flavor, Chicken Broth, Paprika Extract (Color), Salt, Soybean Oil, Spice, Sugar, Yellow Corn Flour; Breading set in Vegetable Oil;
Nutrition Facts
11 servings pr container
Product Number: 00023700014528
Sale Information
On Sale!
Sale price valid from 1/29/2023 until 2/4/2023
Description
Tyson Fully Cooked Frozen Fun Chicken Nuggets, 29 oz Made with chicken raised with no antibiotics ever and no fillers, added hormones or steroids, Tyson Fully Cooked Fun Chicken Nuggets are a delicious frozen entree addition to any meal. Tyson dinosaur shaped chicken nuggets are made with all natural* white meat chicken with no preservatives, then breaded with whole grain breading and seasoned to perfection. *Minimally processed, no artificial ingredients. Breaded Shaped Chicken Patties No Added Hormones or Steroids** **Federal regulations prohibit the use of added hormones or steroids in chicken
Product Number: 00023700014528
Ingredients
Boneless, Skinless Chicken Breasts with Rib Meat; Water; Whole Wheat Flour; Wheat Flour; Contains 2% or less of the following: Corn Starch, Dried Garlic, Dried Onion, Dried Yeast, Flavorings, Natural Flavor, Chicken Broth, Paprika Extract (Color), Salt, Soybean Oil, Spice, Sugar, Yellow Corn Flour; Breading set in Vegetable Oil;
Nutrition Facts
11 servings pr container
Product Number: 00023700014528