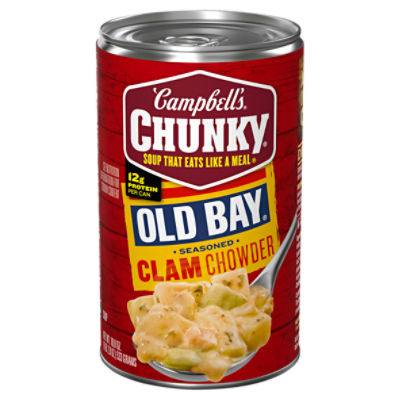 Campbell's Chunky Old Bay Seasoned Clam Chowder Soup, 18.8 oz
Sale Information
On Sale!
Sale price valid from 2/5/2023 until 2/11/2023
Description
Campbell's Chunky Old Bay Seasoned Clam Chowder Soup, 18.8 oz Campbell's Chunky OLD BAY Seasoned Clam Chowder combines hearty New England Clam Chowder with OLD BAY Seasoning for a bold, rich and flavorful way to satisfy your appetite. A tasty spin on a classic comfort food, this soup is seasoned with OLD BAY seafood spice and crafted with generous pieces of succulent clam and hearty potatoes. Each can has 12 grams of protein (1). It Fills You Up Right. Just pop this soup into a saucepan or microwave-safe bowl, heat and enjoy. Or, heat it over the campfire on your outdoor adventures. Kick it up a notch by pouring this hearty chowder into a bread bowl. Whether you're looking for quick and easy microwave soups for home or something to take on the go, Campbell's has you covered. The soup can is recyclable for easy disposal. Take on the great outdoors with Campbell's Chunky OLD BAY Seasoned Clam Chowder—Soup That Eats Like a Meal. (1) See Nutrition Information for Sodium content
Ingredients
Clam Stock; Potatoes; Clams; Vegetable Oil (Corn, Canola, and/or Soybean); Celery; Contains less than 2% of: Modified Cornstarch, Old Bay Seasoning (Mustard Bran, Spices [including Celery Seed], Salt, Paprika, Natural Flavoring [including Celery]), Water, Salt, Wheat Flour, Soy Protein Concentrate, Yeast Extract, Potassium Salt, Dried Onions, Paprika, Sugar, Spices, Sodium Phosphate, Natural Flavoring, Dried Butter, Buttermilk, Enzyme Modified Butter, Whey Protein Concentrate, Milkfat, Nonfat Milk, Soy Lecithin;
Nutrition Facts
servings pr container
Product Number: 00051000284174
Sale Information
On Sale!
Sale price valid from 2/5/2023 until 2/11/2023
Description
Campbell's Chunky Old Bay Seasoned Clam Chowder Soup, 18.8 oz Campbell's Chunky OLD BAY Seasoned Clam Chowder combines hearty New England Clam Chowder with OLD BAY Seasoning for a bold, rich and flavorful way to satisfy your appetite. A tasty spin on a classic comfort food, this soup is seasoned with OLD BAY seafood spice and crafted with generous pieces of succulent clam and hearty potatoes. Each can has 12 grams of protein (1). It Fills You Up Right. Just pop this soup into a saucepan or microwave-safe bowl, heat and enjoy. Or, heat it over the campfire on your outdoor adventures. Kick it up a notch by pouring this hearty chowder into a bread bowl. Whether you're looking for quick and easy microwave soups for home or something to take on the go, Campbell's has you covered. The soup can is recyclable for easy disposal. Take on the great outdoors with Campbell's Chunky OLD BAY Seasoned Clam Chowder—Soup That Eats Like a Meal. (1) See Nutrition Information for Sodium content
Product Number: 00051000284174
Ingredients
Clam Stock; Potatoes; Clams; Vegetable Oil (Corn, Canola, and/or Soybean); Celery; Contains less than 2% of: Modified Cornstarch, Old Bay Seasoning (Mustard Bran, Spices [including Celery Seed], Salt, Paprika, Natural Flavoring [including Celery]), Water, Salt, Wheat Flour, Soy Protein Concentrate, Yeast Extract, Potassium Salt, Dried Onions, Paprika, Sugar, Spices, Sodium Phosphate, Natural Flavoring, Dried Butter, Buttermilk, Enzyme Modified Butter, Whey Protein Concentrate, Milkfat, Nonfat Milk, Soy Lecithin;
Nutrition Facts
servings pr container
Product Number: 00051000284174