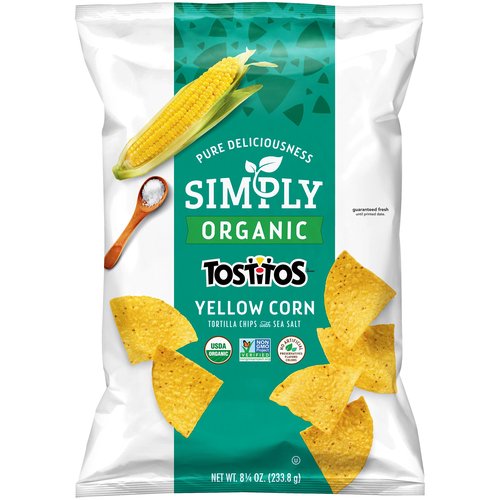 Tostitos Simply Organic Yellow Corn Tortilla Chips with Sea Salt, 8 1/4 oz
Sale Information
On Sale!
Sale price valid from 3/26/2023 until 4/1/2023
Description
Tostitos Simply Organic Yellow Corn Tortilla Chips with Sea Salt, 8 1/4 oz Organic corn, sea-salted goodness and the absence of artificial flavors, colors, and preservatives will have you munching for joy. Pure deliciousness
Ingredients
Organic Corn; Organic Expeller-Pressed Sunflower Oil; Sea Salt;
Nutrition Facts
8 servings pr container
Product Number: 00028400589246
Sale Information
On Sale!
Sale price valid from 3/26/2023 until 4/1/2023
Description
Tostitos Simply Organic Yellow Corn Tortilla Chips with Sea Salt, 8 1/4 oz Organic corn, sea-salted goodness and the absence of artificial flavors, colors, and preservatives will have you munching for joy. Pure deliciousness
Product Number: 00028400589246
Ingredients
Organic Corn; Organic Expeller-Pressed Sunflower Oil; Sea Salt;
Nutrition Facts
8 servings pr container
Product Number: 00028400589246