Search results
Crest Pro-Health Gum Detoxify Fluoride Toothpaste for Anticavity and Antigingivitis, 3.7 oz, 3.7 Ounce, $7.49
Neutralizes plaque bacteria, even around the gumline, for 24 hours*n*with twice daily brushingnnPrevents harmful oxidants from causing oxidative stress on your gums by neutralizing plaque bacteria to break the cycle of gingivitis.nDissolves & lifts away gum harming plaque bacteria.nActivated foam gently cools gums during and after brushing.nnClinically Proven to Fortify Gums to Protect Teeth†n†Helps reverse gingivitisnnDrug FactsnActive ingredient - PurposesnStannous fluoride 0.454% (0.15% w/v fluoride ion) - Anticavity, antigingivitis toothpastennUsesn• aids in the prevention of cavitiesn• helps prevent gingivitisn• helps interfere with the harmful effects of plaque associated with gingivitisn• helps control plaque bacteria that contribute to the development of gingivitis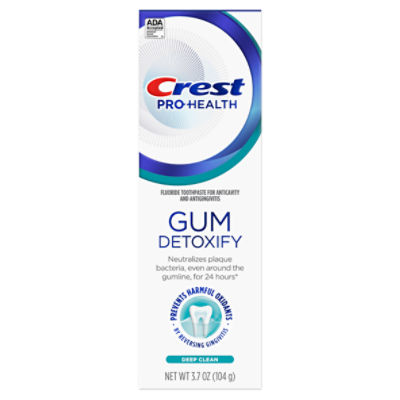 Crest Pro-Health Gum Detoxify Fluoride Toothpaste for Anticavity and Antigingivitis, 3.7 oz, 3.7 Ounce
Open Product Description
Parodontax Active Gum Repair Whitening Toothpaste, 3.4 oz, 3.4 Ounce, $6.99
• One 3.4 oz Parodontax Active Gum Repair Whitening Toothpasten• Parodontax Active Gum Repair Whitening Toothpaste is a daily gum toothpastennDaily Fluoride Anticavity and Antigingivitis ToothpastennDrug FactsnActive ingredient - PurposesnStannous fluoride 0.454% (0.15% w/v fluoride ion) - Anticavity, antigingivitisnnUsesn• aids in the prevention of dental cavities.n• helps control bleeding gums.n• helps interfere with harmful effects of plaque associated with gingivitis.nnTo keep your gums healthy,nit's important for the seal between the gum and the teeth to be tight. When plaque bacteria builds up along the gum line, this may loosen the gum seal which leads to gum problems.nnNew parodontax Active Gum Repair is a daily toothpaste formulated to help reverse signs of early gum damage by targeting plaque, the main cause of gum problems. The active ingredient kills plaque bacteria at the gum line to help keep the seal tight between gums and teeth and prevent early gum problems.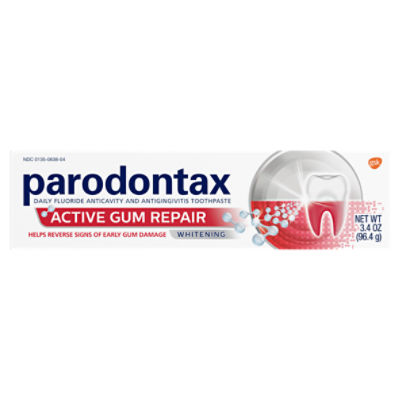 Parodontax Active Gum Repair Whitening Toothpaste, 3.4 oz, 3.4 Ounce
Open Product Description
Can't find what you're looking for?