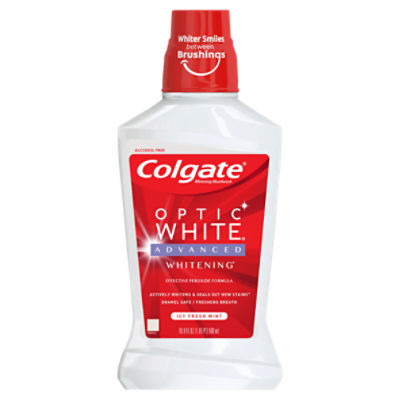 Colgate Optic White Whitening Fresh Mint, Mouthwash, 16 Fluid ounce
$3.99
was $4.79
$0.25/fl oz
Sale Information
On Sale!
Sales price valid from 12/4/2022 until 12/10/2022
Description
Colgate Optic White Whitening Mouthwash, 2% Hydrogen Peroxide, Fresh Mint - 473 mL, 16 fl.oz. Actively whitens and seals out new stains* *Whitens by removing surface stains and helps to prevent new stains between brushings. Colgate Optic White High Impact White whitening mouthwash, fresh mint, actively whitens teeth and seals out new stains (by removing surface stains and helping to prevent future stains). Mouth rinse, mouth wash, rinse, whiten, stain removal, no burn, best, bad breath, dental, effective, long lasting, great taste, clean, fresh, without alcohol, mouthwashes, no alcohol, non alcoholic, non fluoride, oral mouthrinse, flavor, sting, burn, bleach, peroxide, healthy, hydrogen peroxide, affordable, at home, bad breath, easy, fast, home remedies, do it yourself, dental stain removal, over the counter, noticeable, beautiful, long lasting, refreshing, lightens, freshen, keeps, gel, pearly, soft toothbrush bristles, medium toothbrush bristles, alcohol free mouthwash no burn of alcohol, oral rinse to kill bad breath germs bacteria, oral rinse gluten free, colgate optic white teeth whitening
Ingredients
Water; Glycerin; Propylene Glycol; Sorbitol; Hydrogen Peroxide; Polysorbate 20; Sodium Acrylates/Methacryloylethyl Phosphate Copolymer; Phosphoric Acid; Citric Acid; Flavor; PVM/MA Copolymer; Sodium Saccharin;
Product Number: 00035000671110
Sale Information
On Sale!
Sales price valid from 12/4/2022 until 12/10/2022
Description
Colgate Optic White Whitening Mouthwash, 2% Hydrogen Peroxide, Fresh Mint - 473 mL, 16 fl.oz. Actively whitens and seals out new stains* *Whitens by removing surface stains and helps to prevent new stains between brushings. Colgate Optic White High Impact White whitening mouthwash, fresh mint, actively whitens teeth and seals out new stains (by removing surface stains and helping to prevent future stains). Mouth rinse, mouth wash, rinse, whiten, stain removal, no burn, best, bad breath, dental, effective, long lasting, great taste, clean, fresh, without alcohol, mouthwashes, no alcohol, non alcoholic, non fluoride, oral mouthrinse, flavor, sting, burn, bleach, peroxide, healthy, hydrogen peroxide, affordable, at home, bad breath, easy, fast, home remedies, do it yourself, dental stain removal, over the counter, noticeable, beautiful, long lasting, refreshing, lightens, freshen, keeps, gel, pearly, soft toothbrush bristles, medium toothbrush bristles, alcohol free mouthwash no burn of alcohol, oral rinse to kill bad breath germs bacteria, oral rinse gluten free, colgate optic white teeth whitening
Product Number: 00035000671110
Ingredients
Water; Glycerin; Propylene Glycol; Sorbitol; Hydrogen Peroxide; Polysorbate 20; Sodium Acrylates/Methacryloylethyl Phosphate Copolymer; Phosphoric Acid; Citric Acid; Flavor; PVM/MA Copolymer; Sodium Saccharin;
Product Number: 00035000671110