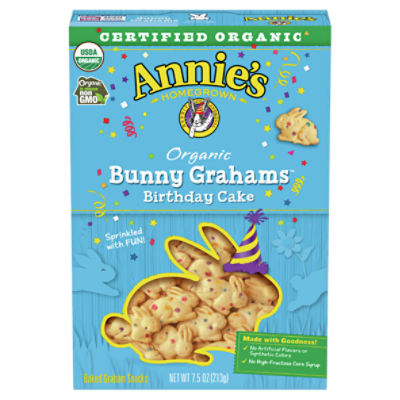 Sale Information
On Sale!
Sale price valid from 2/5/2023 until 2/11/2023
Description
Annie's Homegrown Bunny Grahams Organic Birthday Cake Baked Graham Snacks, 7.5 oz Sprinkled with Fun! Made with Goodness! ✓ No artificial flavors, synthetic colors or synthetic preservatives ✓ No high-fructose corn syrup
Ingredients
Organic Wheat Flour; Organic Cane Sugar; Organic Expeller-Pressed Sunflower Oil; Organic Invert Cane Syrup; Organic Corn Flour; Organic Whole Wheat Flour (Graham Flour); Organic Rice Flour; Calcium Carbonate; Organic Potato Starch; Baking Soda; Sea Salt; Color (Organic Turmeric, Organic Annatto, Carrot Juice, Blueberry Juice, Red Cabbage Juice, Red Radish Juice); Natural Flavor; Citric Acid; Mixed Tocopherols (Vitamin E) to protect flavor;
Nutrition Facts
servings pr container
Product Number: 00013562109234
Sale Information
On Sale!
Sale price valid from 2/5/2023 until 2/11/2023
Description
Annie's Homegrown Bunny Grahams Organic Birthday Cake Baked Graham Snacks, 7.5 oz Sprinkled with Fun! Made with Goodness! ✓ No artificial flavors, synthetic colors or synthetic preservatives ✓ No high-fructose corn syrup
Product Number: 00013562109234
Ingredients
Organic Wheat Flour; Organic Cane Sugar; Organic Expeller-Pressed Sunflower Oil; Organic Invert Cane Syrup; Organic Corn Flour; Organic Whole Wheat Flour (Graham Flour); Organic Rice Flour; Calcium Carbonate; Organic Potato Starch; Baking Soda; Sea Salt; Color (Organic Turmeric, Organic Annatto, Carrot Juice, Blueberry Juice, Red Cabbage Juice, Red Radish Juice); Natural Flavor; Citric Acid; Mixed Tocopherols (Vitamin E) to protect flavor;
Nutrition Facts
servings pr container
Product Number: 00013562109234