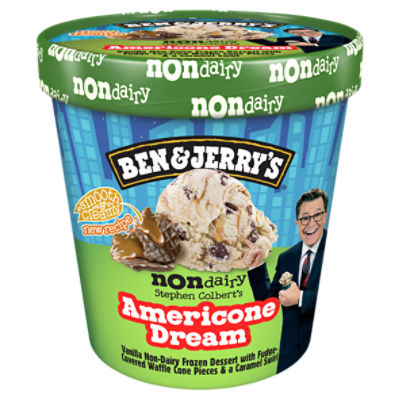 Ben & Jerry's Non-Dairy Frozen Dessert Americone Dream® 16 oz
Sale Information
On Sale!
Sales price valid from 1/22/2023 until 1/28/2023
Description
Ben & Jerry's Non-Dairy Frozen Dessert Americone Dream® 16 oz Vanilla with Fudge-Covered Waffle Cone Pieces & a Caramel Swirl Ben & Jerry's vanilla non-dairy frozen dessert with fudge-covered waffle cone pieces and a caramel swirl. If your certified vegan diet needs a swirl of Ben & Jerry's euphoria, this pint has it in aces
Ingredients
Almond Milk (Water, Almonds); Liquid Sugar (Sugar, Water); Coconut Oil; Sugar; Corn Syrup Solids; Corn Syrup; Wheat Flour; Water; Cocoa Powder; Brown Sugar; Pea Protein; Chickpea Flour; Sunflower Lecithin; Natural Flavor; Soy Lecithin; Salt; Vanilla Extract; Pectin; Caramelized Sugar Syrup; Sea Salt; Guar Gum; Locust Bean Gum; Soybean Oil;
Nutrition Facts
3 servings pr container
Product Number: 00076840002900
Sale Information
On Sale!
Sales price valid from 1/22/2023 until 1/28/2023
Description
Ben & Jerry's Non-Dairy Frozen Dessert Americone Dream® 16 oz Vanilla with Fudge-Covered Waffle Cone Pieces & a Caramel Swirl Ben & Jerry's vanilla non-dairy frozen dessert with fudge-covered waffle cone pieces and a caramel swirl. If your certified vegan diet needs a swirl of Ben & Jerry's euphoria, this pint has it in aces
Product Number: 00076840002900
Ingredients
Almond Milk (Water, Almonds); Liquid Sugar (Sugar, Water); Coconut Oil; Sugar; Corn Syrup Solids; Corn Syrup; Wheat Flour; Water; Cocoa Powder; Brown Sugar; Pea Protein; Chickpea Flour; Sunflower Lecithin; Natural Flavor; Soy Lecithin; Salt; Vanilla Extract; Pectin; Caramelized Sugar Syrup; Sea Salt; Guar Gum; Locust Bean Gum; Soybean Oil;
Nutrition Facts
3 servings pr container
Product Number: 00076840002900