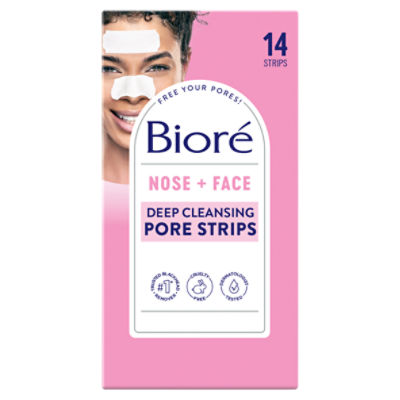 Bioré Nose + Face Deep Cleansing Pore Strips, 14 counts
Sale Information
On Sale!
Sale price valid from 2/5/2023 until 2/11/2023
Description
Bioré Nose + Face Deep Cleansing Pore Strips, 14 counts Let's face it Dirt and oil don't discriminate. The blackheads they cause can pop up anywhere, and you've got to be ready at any time to face them. What it does With proprietary Japanese technology, Bioré Deep Cleansing Pore Strips work like a magnet, instantly locking onto and lifting out deep-down dirt, oil and blackheads, so you get the deepest clean. Nose strips are designed just for your nose, while face strips can be used anywhere clogged pores might appear. You can remove weeks' worth of dirt buildup in just 10 minutes. When used weekly, you will have fewer clogged pores and the appearance of pores will actually diminish. #1 Trusted Blackhead Remover* *#1 trusted blackhead remover based on Nielsen Data latest 52 weeks ending 1/23/2021
Ingredients
Polyquaternium-37; Silica; Water; Glycerin; Polysilicone-13; PEG-12 Dimethicone; Titanium Dioxide; Methylparaben; Aluminum Hydroxide; Butylene Glycol; Stearyl Glycyrrhetinate; Hamamelis Virginiana (Witch Hazel) Leaf Extract;
Product Number: 00019100031241
Sale Information
On Sale!
Sale price valid from 2/5/2023 until 2/11/2023
Description
Bioré Nose + Face Deep Cleansing Pore Strips, 14 counts Let's face it Dirt and oil don't discriminate. The blackheads they cause can pop up anywhere, and you've got to be ready at any time to face them. What it does With proprietary Japanese technology, Bioré Deep Cleansing Pore Strips work like a magnet, instantly locking onto and lifting out deep-down dirt, oil and blackheads, so you get the deepest clean. Nose strips are designed just for your nose, while face strips can be used anywhere clogged pores might appear. You can remove weeks' worth of dirt buildup in just 10 minutes. When used weekly, you will have fewer clogged pores and the appearance of pores will actually diminish. #1 Trusted Blackhead Remover* *#1 trusted blackhead remover based on Nielsen Data latest 52 weeks ending 1/23/2021
Product Number: 00019100031241
Ingredients
Polyquaternium-37; Silica; Water; Glycerin; Polysilicone-13; PEG-12 Dimethicone; Titanium Dioxide; Methylparaben; Aluminum Hydroxide; Butylene Glycol; Stearyl Glycyrrhetinate; Hamamelis Virginiana (Witch Hazel) Leaf Extract;
Product Number: 00019100031241