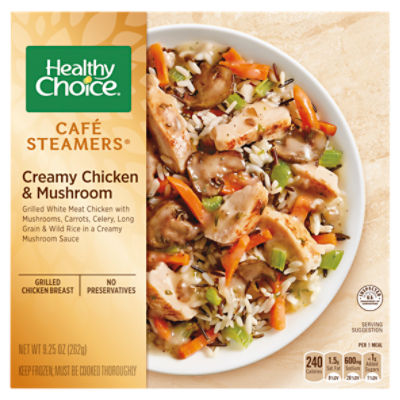 Healthy Choice Café Steamers Creamy Chicken & Mushroom, 9.25 Ounce
Sale Information
On Sale!
Sales price valid from 10/2/2022 until 10/8/2022
Description
Healthy Choice Café Steamers Creamy Chicken & Mushroom, 9.25 oz. Grilled White Meat Chicken with Mushrooms, Carrots, Celery, Long Grain & Wild Rice in a Creamy Mushroom Sauce
Ingredients
Cooked Rice (Water, White Rice, Wild Rice); Cooked Chicken (Chicken Breast, Water, Olive Oil, contains 2% or less of: Isolated Soy Protein Product [Isolated Soy Protein, Modified Potato Starch, Corn Starch, Carrageenan, Soy Lecithin], Dextrose, Potassium Chloride, Salt, Sodium Phosphates, Flavoring); Water; Mushrooms; Carrots; Celery; Contains 2% or less of: Chicken Flavor (Chicken Broth, Salt, Chicken Fat), Modified Corn Starch, Soybean Oil, Chablis Wine, Butter (Cream, Salt), Nonfat Dry Milk Salt, Flavorings, Sautéed Vegetable Purees (Carrots, Celery and Onions), Sugar, Xanthan Gum, Maltodextrin, Guar Gum;
Nutrition Facts
servings pr container
Product Number: 00072655220096
Sale Information
On Sale!
Sales price valid from 10/2/2022 until 10/8/2022
Description
Healthy Choice Café Steamers Creamy Chicken & Mushroom, 9.25 oz. Grilled White Meat Chicken with Mushrooms, Carrots, Celery, Long Grain & Wild Rice in a Creamy Mushroom Sauce
Product Number: 00072655220096
Ingredients
Cooked Rice (Water, White Rice, Wild Rice); Cooked Chicken (Chicken Breast, Water, Olive Oil, contains 2% or less of: Isolated Soy Protein Product [Isolated Soy Protein, Modified Potato Starch, Corn Starch, Carrageenan, Soy Lecithin], Dextrose, Potassium Chloride, Salt, Sodium Phosphates, Flavoring); Water; Mushrooms; Carrots; Celery; Contains 2% or less of: Chicken Flavor (Chicken Broth, Salt, Chicken Fat), Modified Corn Starch, Soybean Oil, Chablis Wine, Butter (Cream, Salt), Nonfat Dry Milk Salt, Flavorings, Sautéed Vegetable Purees (Carrots, Celery and Onions), Sugar, Xanthan Gum, Maltodextrin, Guar Gum;
Nutrition Facts
servings pr container
Product Number: 00072655220096