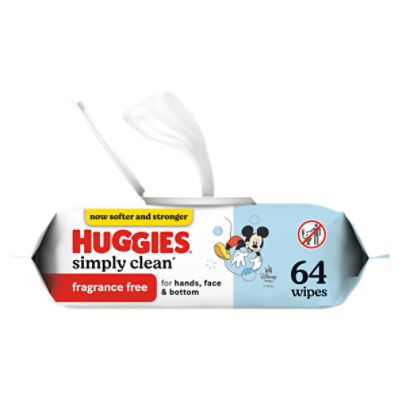 Huggies Simply Clean Unscented Baby Wipes
Sale Information
On Sale!
Sale price valid from 2/5/2023 until 2/11/2023
Description
Huggies Simply Clean Unscented Baby Wipes Huggies Simply Clean Fragrance Free Baby Wipes are a great combination of convenience and versatility, a must-have for the entire family. These disposable wipes great for sensitive baby bottoms, but can also be used to wipe hands and faces for toddlers and children. Reliably offering you plant-based ingredients since 1990, Simply Clean unscented wipes are a great solution wherever you go, whether it's around the house, at the playground or in the car, because kids outgrow diapers, not messes. Simply Clean baby wipes are hypoallergenic, dermatologist-tested and pH-balanced to help maintain healthy skin. They're also fragrance free, alcohol free, paraben free and do not contain phenoxyethanol or MIT. Huggies Simply Clean Wipes feature a flip-top design with EZ Pull 1-Handed Dispensing and come in adorable, Mickey Mouse-inspired packaging. Join Huggies Rewards+ powered by Fetch to get rewarded. Earn points on Huggies diapers and wipes, in addition to thousands of other products to redeem for hundreds of gift cards. Download the Fetch Rewards app to get started today! (*70%+ by weight)
Ingredients
Water/Aqua; Caprylyl Glycol; Sodium Benzoate; Coco-Betaine; Polysorbate 20; Malic Acid; Sodium Citrate; Aloe Barbadensis Leaf Extract; Tocopheryl Acetate; (Vitamin E is in the form of Tocopheryl Acetate);
Product Number: 00036000487503
Sale Information
On Sale!
Sale price valid from 2/5/2023 until 2/11/2023
Description
Huggies Simply Clean Unscented Baby Wipes Huggies Simply Clean Fragrance Free Baby Wipes are a great combination of convenience and versatility, a must-have for the entire family. These disposable wipes great for sensitive baby bottoms, but can also be used to wipe hands and faces for toddlers and children. Reliably offering you plant-based ingredients since 1990, Simply Clean unscented wipes are a great solution wherever you go, whether it's around the house, at the playground or in the car, because kids outgrow diapers, not messes. Simply Clean baby wipes are hypoallergenic, dermatologist-tested and pH-balanced to help maintain healthy skin. They're also fragrance free, alcohol free, paraben free and do not contain phenoxyethanol or MIT. Huggies Simply Clean Wipes feature a flip-top design with EZ Pull 1-Handed Dispensing and come in adorable, Mickey Mouse-inspired packaging. Join Huggies Rewards+ powered by Fetch to get rewarded. Earn points on Huggies diapers and wipes, in addition to thousands of other products to redeem for hundreds of gift cards. Download the Fetch Rewards app to get started today! (*70%+ by weight)
Product Number: 00036000487503
Ingredients
Water/Aqua; Caprylyl Glycol; Sodium Benzoate; Coco-Betaine; Polysorbate 20; Malic Acid; Sodium Citrate; Aloe Barbadensis Leaf Extract; Tocopheryl Acetate; (Vitamin E is in the form of Tocopheryl Acetate);
Product Number: 00036000487503