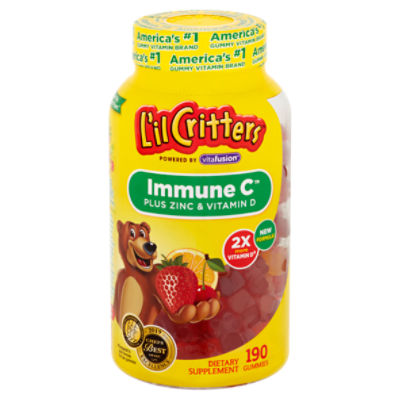 Vitafusion L'il Critters Immune C Plus Zinc & Vitamin D Gummies, 190 count
$13.99
was $15.99
$0.07 each
Sale Information
On Sale!
Sales price valid from 1/29/2023 until 2/4/2023
Description
Vitafusion L'il Critters Immune C Plus Zinc & Vitamin D Gummies, 190 count Dietary Supplement 2x more vitamin D♦ ♦Compared to prior formula. For two gummies Award Winning Taste! American Culinary Chefsbest - ChefsBest.com 2019 Chefs Best Excellence Award The ChefsBest® Excellence Award is awarded to brands that surpass quality standards established by independent professional chefs. The No-Nos ✓ No high fructose corn syrup ✓ No artificial flavors or sweeteners ✓ No gluten or dairy What's in our Gummies: Vitamin C immune support* Zinc cellular support* *These statements have not been evaluated by the Food and Drug Administration. This product is not intended to diagnose, treat, cure or prevent any disease. 2 Gummies provide as much vitamin C as 5 medium tangerines
Ingredients
Other Ingredients: Glucose Syrup, Sugar, Water, Gelatin; less than 2% of: Blend of Oils (Coconut and/or Palm) with Beeswax and/or Carnauba Wax, Citric Acid, Colors (Annatto Extract, Purple Carrot Juice Concentrate, Turmeric), Lactic Acid, and Natural Flavors;
Nutrition Facts
servings pr container
Product Number: 00027917019451
Sale Information
On Sale!
Sales price valid from 1/29/2023 until 2/4/2023
Description
Vitafusion L'il Critters Immune C Plus Zinc & Vitamin D Gummies, 190 count Dietary Supplement 2x more vitamin D♦ ♦Compared to prior formula. For two gummies Award Winning Taste! American Culinary Chefsbest - ChefsBest.com 2019 Chefs Best Excellence Award The ChefsBest® Excellence Award is awarded to brands that surpass quality standards established by independent professional chefs. The No-Nos ✓ No high fructose corn syrup ✓ No artificial flavors or sweeteners ✓ No gluten or dairy What's in our Gummies: Vitamin C immune support* Zinc cellular support* *These statements have not been evaluated by the Food and Drug Administration. This product is not intended to diagnose, treat, cure or prevent any disease. 2 Gummies provide as much vitamin C as 5 medium tangerines
Product Number: 00027917019451
Ingredients
Other Ingredients: Glucose Syrup, Sugar, Water, Gelatin; less than 2% of: Blend of Oils (Coconut and/or Palm) with Beeswax and/or Carnauba Wax, Citric Acid, Colors (Annatto Extract, Purple Carrot Juice Concentrate, Turmeric), Lactic Acid, and Natural Flavors;
Nutrition Facts
servings pr container
Product Number: 00027917019451