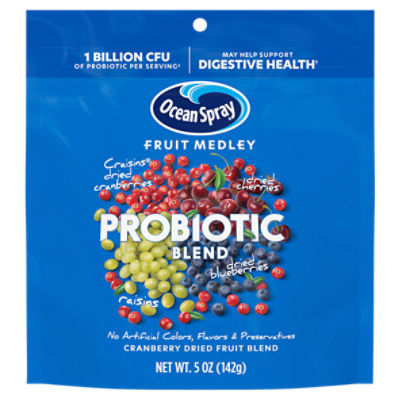 Ocean Spray Probiotic Blend Fruit Medley, 5 oz
Sale Information
On Sale!
Sales price valid from 1/29/2023 until 2/4/2023
Description
Ocean Spray Probiotic Blend Fruit Medley, 5 oz Cranberry Dried Fruit Blend 1 Billion CFU of Probiotic per Serving† May Help Support Digestive Health† †1 billion CFUs of Bacillus coagulans GBI-30 6086 per day may help support digestive health as part of a balanced diet and healthy lifestyle. Craisins® dried cranberries, dried cherries, raisins, dried blueberries
Ingredients
Dried Cranberries (Sugar, Cranberries); Dried Blueberries (Blueberries, Sugar); Dried Cherries; Raisins; Bacillus Coagulans Gbi-30 6086; Refined Sunflower Oil is used as a processing aid;
Nutrition Facts
35 servings pr container
Product Number: 00031200012623
Sale Information
On Sale!
Sales price valid from 1/29/2023 until 2/4/2023
Description
Ocean Spray Probiotic Blend Fruit Medley, 5 oz Cranberry Dried Fruit Blend 1 Billion CFU of Probiotic per Serving† May Help Support Digestive Health† †1 billion CFUs of Bacillus coagulans GBI-30 6086 per day may help support digestive health as part of a balanced diet and healthy lifestyle. Craisins® dried cranberries, dried cherries, raisins, dried blueberries
Product Number: 00031200012623
Ingredients
Dried Cranberries (Sugar, Cranberries); Dried Blueberries (Blueberries, Sugar); Dried Cherries; Raisins; Bacillus Coagulans Gbi-30 6086; Refined Sunflower Oil is used as a processing aid;
Nutrition Facts
35 servings pr container
Product Number: 00031200012623