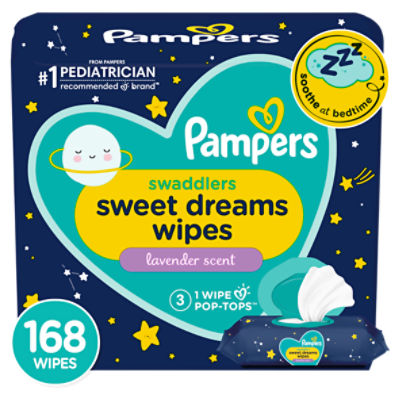 Pampers Lavender Scent Swaddlers Sweet Dreams Wipes, 3 pack, 168 count
Sale Information
On Sale!
Sale price valid from 2/5/2023 until 2/11/2023
Description
Pampers Lavender Scent Swaddlers Sweet Dreams Wipes, 3 pack, 168 count When it's time to wind down, reach for Pampers Sweet Dreams wipes to help soothe your baby at bedtime. Lightly scented with dreamy lavender aromas, these baby wipes are made to be gentle on sensitive skin. Safe to use on your baby from head to toe, Sweet Dreams wipes are hypoallergenic and free of parabens and latex.*For less waste and to keep wipes fresh, our unique pop-top is designed to dispense one wipe at a time. As part of your baby's nighttime routine, use Pampers Sweet Dreams Wipes with Pampers Swaddlers Overnights diapers for healthy skin. From Pampers, the #1 Pediatrician recommended brand.*Natural Rubber
Ingredients
Water; Citric Acid; PEG-40 Hydrogenated Castor Oil; Sodium Citrate; Sorbitan Caprylate; Sodium Benzoate; Disodium EDTA; Isoamyl Laurate; Xanthan Gum; Perfume;
Product Number: 00030772018798
Sale Information
On Sale!
Sale price valid from 2/5/2023 until 2/11/2023
Description
Pampers Lavender Scent Swaddlers Sweet Dreams Wipes, 3 pack, 168 count When it's time to wind down, reach for Pampers Sweet Dreams wipes to help soothe your baby at bedtime. Lightly scented with dreamy lavender aromas, these baby wipes are made to be gentle on sensitive skin. Safe to use on your baby from head to toe, Sweet Dreams wipes are hypoallergenic and free of parabens and latex.*For less waste and to keep wipes fresh, our unique pop-top is designed to dispense one wipe at a time. As part of your baby's nighttime routine, use Pampers Sweet Dreams Wipes with Pampers Swaddlers Overnights diapers for healthy skin. From Pampers, the #1 Pediatrician recommended brand.*Natural Rubber
Product Number: 00030772018798
Ingredients
Water; Citric Acid; PEG-40 Hydrogenated Castor Oil; Sodium Citrate; Sorbitan Caprylate; Sodium Benzoate; Disodium EDTA; Isoamyl Laurate; Xanthan Gum; Perfume;
Product Number: 00030772018798