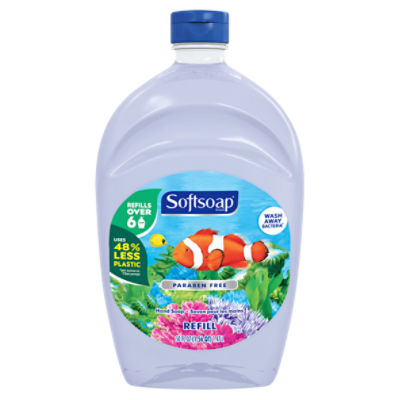 Softsoap Liquid Hand Soap Refill, Aquarium Series - 50 Fluid Ounce
$5.99
was $6.49
$0.12/fl oz
Sale Information
On Sale!
Sales price valid from 1/29/2023 until 2/4/2023
Description
Softsoap Liquid Hand Soap Refill, Aquarium Series - 50 Fluid Ounce Aside from leaving your skin feeling soft and your hands clean, the Softsoap Liquid Hand Soap, Aquarium Series will brighten a room and your day. liquid hand soap, pump, softsoap, handsoap, dry skin, clear soap, kitchen soap, bathroom soap, best, hydrating, nice smell, protection, colds, virus, sensitive skin, allergies, non-irritating, bar soap, non-drying, easy rinse, illness, infection, lather, environmentally friendly, value, quality, premium, safe, children, kids, schools, fresh scent, lightly scented, refill Wash Away Bacteria* *Wash away dirt and bacteria for good hygiene. Health care agencies recommend washing hands with soap and running water for 20 seconds. Uses 48% Less Plastic *per ounce vs. 7.5oz pumps
Ingredients
Aqua/Water; Sodium C12-13 Pareth Sulfate; Cocamidopropyl Betaine; Sodium Chloride; Propylene Glycol; Fragrance; Cocamide MEA; Sodium Salicylate; Sodium Benzoate; Citric Acid; Sodium Sulfate; Tetrasodium EDTA; BHT; Polyquaternium-7; PEG-18 Glyceryl Oleate/Cocoate; PEG-7 Glyceryl Cocoate; Paloxamer 124; Ext. Violet 2;
Product Number: 00074182459932
Sale Information
On Sale!
Sales price valid from 1/29/2023 until 2/4/2023
Description
Softsoap Liquid Hand Soap Refill, Aquarium Series - 50 Fluid Ounce Aside from leaving your skin feeling soft and your hands clean, the Softsoap Liquid Hand Soap, Aquarium Series will brighten a room and your day. liquid hand soap, pump, softsoap, handsoap, dry skin, clear soap, kitchen soap, bathroom soap, best, hydrating, nice smell, protection, colds, virus, sensitive skin, allergies, non-irritating, bar soap, non-drying, easy rinse, illness, infection, lather, environmentally friendly, value, quality, premium, safe, children, kids, schools, fresh scent, lightly scented, refill Wash Away Bacteria* *Wash away dirt and bacteria for good hygiene. Health care agencies recommend washing hands with soap and running water for 20 seconds. Uses 48% Less Plastic *per ounce vs. 7.5oz pumps
Product Number: 00074182459932
Ingredients
Aqua/Water; Sodium C12-13 Pareth Sulfate; Cocamidopropyl Betaine; Sodium Chloride; Propylene Glycol; Fragrance; Cocamide MEA; Sodium Salicylate; Sodium Benzoate; Citric Acid; Sodium Sulfate; Tetrasodium EDTA; BHT; Polyquaternium-7; PEG-18 Glyceryl Oleate/Cocoate; PEG-7 Glyceryl Cocoate; Paloxamer 124; Ext. Violet 2;
Product Number: 00074182459932