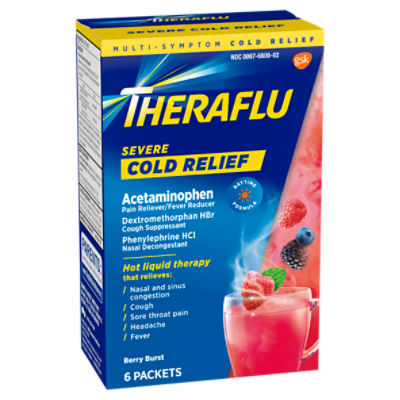 Theraflu Berry Burst Severe Multi-Symptom, Cold Relief Packets, 6 Each
Age restricted item
You must be at least Attriute 'MINIMUM_ALCOHOL_BUYING_AGE' not found years of age to purchase. You will be asked to show your ID at time of pickup/delivery
Sale Information
On Sale!
Sales price valid from 12/4/2022 until 12/10/2022
Description
Theraflu Berry Burst Severe Multi-Symptom Cold Relief Packets, 6 count Drug Facts Active ingredients (in each packet) - Purposes Acetaminophen 650 mg - Pain reliever/fever reducer Dextromethorphan HBr 20 mg - Cough suppressant Phenylephrine HCl 10 mg - Nasal decongestant Uses • temporarily relieves these symptoms due to a cold: • minor aches and pains • minor sore throat pain • headache • nasal and sinus congestion • cough due to minor throat and bronchial irritation • temporarily reduces fever
Ingredients
Inactive Ingredients: Acesulfame Potassium, Anhydrous Citric Acid, Aspartame, FD&C Blue No. 1, FD&C Red No. 40, Flavors, Maltodextrin, Silicon Dioxide, Sodium Citrate, Soy Lecithin, Sucrose, Tribasic Calcium Phosphate;
Product Number: 00300677917060
Sale Information
On Sale!
Sales price valid from 12/4/2022 until 12/10/2022
Description
Theraflu Berry Burst Severe Multi-Symptom Cold Relief Packets, 6 count Drug Facts Active ingredients (in each packet) - Purposes Acetaminophen 650 mg - Pain reliever/fever reducer Dextromethorphan HBr 20 mg - Cough suppressant Phenylephrine HCl 10 mg - Nasal decongestant Uses • temporarily relieves these symptoms due to a cold: • minor aches and pains • minor sore throat pain • headache • nasal and sinus congestion • cough due to minor throat and bronchial irritation • temporarily reduces fever
Product Number: 00300677917060
Ingredients
Inactive Ingredients: Acesulfame Potassium, Anhydrous Citric Acid, Aspartame, FD&C Blue No. 1, FD&C Red No. 40, Flavors, Maltodextrin, Silicon Dioxide, Sodium Citrate, Soy Lecithin, Sucrose, Tribasic Calcium Phosphate;
Product Number: 00300677917060