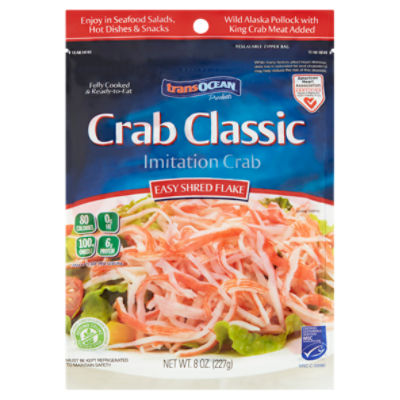 Trans Ocean Crab Classic Imitation Crab, Easy Shred Flake, 8 Ounce
Sale Information
On Sale!
Sales price valid from 5/15/2022 until 5/21/2022
Description
Trans Ocean Crab Classic Easy Shred Flake Imitation Crab, 8 oz Wild Alaska Pollock with King Crab Mead Added Enjoy the great taste & healthy benefits of Crab Classic. • Gluten free & heart healthy • Fully cooked & ready-to-eat • Wild & sustainable Alaska Pollock
Product Number: 00715166146027
Sale Information
On Sale!
Sales price valid from 5/15/2022 until 5/21/2022
Description
Trans Ocean Crab Classic Easy Shred Flake Imitation Crab, 8 oz Wild Alaska Pollock with King Crab Mead Added Enjoy the great taste & healthy benefits of Crab Classic. • Gluten free & heart healthy • Fully cooked & ready-to-eat • Wild & sustainable Alaska Pollock
Product Number: 00715166146027
Product Number: 00715166146027