Search results
Handy Heater Pure Warmth Ceramic Space Heater, 1 Each, $39.99
Enjoy Warm, Cozy Heat... Anywhere! • Advanced ceramic technology • Cleans* air as it heats • Adjustable - three speeds • Quiet operation Filter* Safety Features: • Recessed ceramic heating element • Cool-touch case • Auto-off tip-over protection True Shield™ Filter Helps clean* as it heats *Independent testing of filter resulted in 14% removal rate of cigarette smoke constituents (carbon monoxide, tar and nicotine). The Secret is... Handy Heater® Pure Warmth™'s powerful advanced ceramic heater provides incredibly concentrated heat just where you need it. Three powerful heating modes for simple operation & personalized comfort. Safety features include a tip-over auto-off and cool-touch housing. Lightweight and portable, Handy Heater® Pure Warmth™ will quickly turn your personal space into a warm comfort zone! Great for: Living rooms/dens Offices Kitchens Bathrooms Bedrooms Basements & more!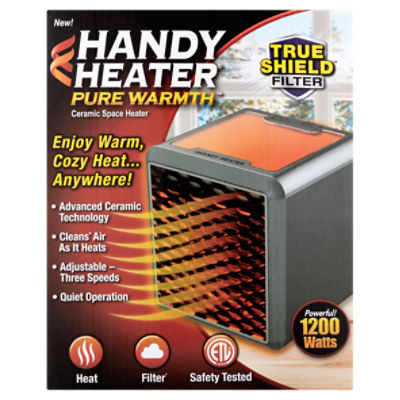 Handy Heater Pure Warmth Ceramic Space Heater, 1 Each
Open Product Description
Can't find what you're looking for?