Search results
Silk Unsweet Cashewmilk with a Touch of Almond, 64 fl oz, 64 Fluid ounce, $4.49
50% More Calcium than Dairy Milk* *Silk Unsweet Cashewmilk: 470mg calcium per cup versus 309mg calcium per cup of reduced fat dairy milk. USDA FoodData Central, 2022 Free from ✓ Dairy ✓ Gluten ✓ Carrageenan ✓ Cholesterol ✓ Soy ✓ Artificial colors ✓ Artificial flavors Enjoy all of the Silk® products in the plant-based yogurt, creamer, and milk alternative aisles. Decadent and Delightfully Creamy Goodness Grown Roasted cashews grown by Mother Nature. Creamy Alternative Add creaminess for only 25 calories. Great in Recipes Tastes delicious in baked goods.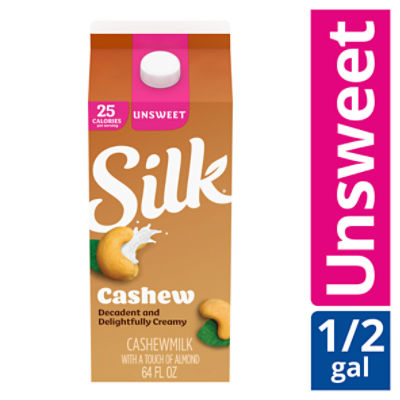 Plant Goodness
No Artificial Ingredients
No Added Sugar
Silk Unsweet Cashewmilk with a Touch of Almond, 64 fl oz, 64 Fluid ounce
Open Product Description
Can't find what you're looking for?