Search results
McCormick Teriyaki Seasoning Mix, 1.25 oz, 1.25 Ounce, $2.99
Recreating restaurant-inspired teriyaki chicken at home is so easy thanks to McCormick Instant Pot Teriyaki Chicken Seasoning Mix. Combine one seasoning packet with a few convenient ingredients right in your Instant Pot. In just 20 minutes you'll have a family-friendly meal that's ready to devour! Busy weeknights call for simple, flavorful dishes that come together with minimal prep and clean-up - like this tasty teriyaki chicken! Chicken comes out of the pressure cooker tender, saucy and flavorful, ready to serve over rice for a complete meal. Don't have a pressure cooker? Prepare slow cooker chicken per the convenient on-pack directions (cook four hours on low, two hours on high). Seasoning mix is made with McCormick spices. No artificial flavors.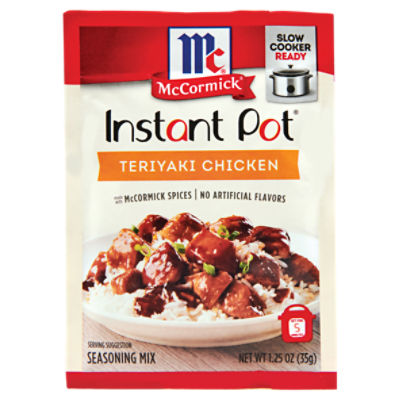 McCormick Teriyaki Seasoning Mix, 1.25 oz, 1.25 Ounce
Open Product Description
Can't find what you're looking for?