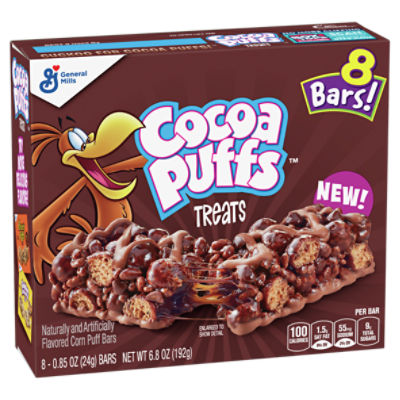 Cocoa Puffs Treats Bars, 0.85 Ounce
Sale Information
On Sale!
Sales price valid from 12/4/2022 until 12/10/2022
Description
General Mills Cocoa Puffs Treats Bars, 0.85 oz, 8 count Naturally and Artificially Flavored Corn Puff Bars Cuckoo for Cocoa Puffs!™
Ingredients
Cereal (Whole Grain Corn, Sugar, Corn Meal, Corn Syrup, Cocoa [processed with Alkali], Canola Oil, Caramel Color, Salt, Fructose, Refiner's Syrup, Baking Soda, Natural Flavor. Vitamins and Minerals: Tricalcium Phosphate, Calcium Carbonate, Vitamin C [Sodium Ascorbate], Iron And Zinc [Mineral Nutrients], A B Vitamin [Niacinamide], Vitamin B6 [Pyridoxine Hydrochloride], Vitamin B1 [Thiamin Mononitrate], Vitamin A [Palmitate], Vitamin B2 [Riboflavin], A B Vitamin [Folic Acid], Vitamin B12, Vitamin D3); Corn Syrup; Sugar; Vegetable Oil (Palm Kernel, Canola, and Palm); Chocolate Flavored Crisp Rice (Rice Flour, Cocoa [processed With Alkali], Sugar, Malt Extract, Salt, Caramel Color, BHT); Fructose; High Fructose Corn Syrup; Cocoa processed with Alkali; Whole Wheat Flour; Nonfat Milk; Calcium Carbonate; Brown Rice Flour; Contains 2% or less of: Vegetable Glycerin, Maltodextrin, Sorbitol, Whole Oat Flour, Yellow Corn Flour, Caramel Color, Salt, Gelatin, Modified Wheat Starch, Natural and Artificial Flavor, Soy Lecithin;
Product Number: 00016000181915
Sale Information
On Sale!
Sales price valid from 12/4/2022 until 12/10/2022
Description
General Mills Cocoa Puffs Treats Bars, 0.85 oz, 8 count Naturally and Artificially Flavored Corn Puff Bars Cuckoo for Cocoa Puffs!™
Product Number: 00016000181915
Ingredients
Cereal (Whole Grain Corn, Sugar, Corn Meal, Corn Syrup, Cocoa [processed with Alkali], Canola Oil, Caramel Color, Salt, Fructose, Refiner's Syrup, Baking Soda, Natural Flavor. Vitamins and Minerals: Tricalcium Phosphate, Calcium Carbonate, Vitamin C [Sodium Ascorbate], Iron And Zinc [Mineral Nutrients], A B Vitamin [Niacinamide], Vitamin B6 [Pyridoxine Hydrochloride], Vitamin B1 [Thiamin Mononitrate], Vitamin A [Palmitate], Vitamin B2 [Riboflavin], A B Vitamin [Folic Acid], Vitamin B12, Vitamin D3); Corn Syrup; Sugar; Vegetable Oil (Palm Kernel, Canola, and Palm); Chocolate Flavored Crisp Rice (Rice Flour, Cocoa [processed With Alkali], Sugar, Malt Extract, Salt, Caramel Color, BHT); Fructose; High Fructose Corn Syrup; Cocoa processed with Alkali; Whole Wheat Flour; Nonfat Milk; Calcium Carbonate; Brown Rice Flour; Contains 2% or less of: Vegetable Glycerin, Maltodextrin, Sorbitol, Whole Oat Flour, Yellow Corn Flour, Caramel Color, Salt, Gelatin, Modified Wheat Starch, Natural and Artificial Flavor, Soy Lecithin;
Product Number: 00016000181915