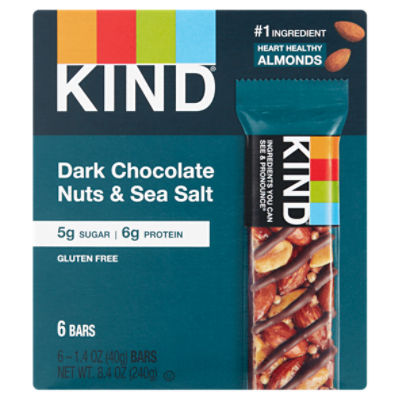 Kind Dark Chocolate Nuts & Sea Salt Bars, 1.4 oz, 6 count
Sale Information
On Sale!
Sale price valid from 2/5/2023 until 2/11/2023
Description
Kind Dark Chocolate Nuts & Sea Salt Bars, 1.4 oz, 6 count Kind® Dark Chocolate Nuts & Sea Salt took us two years to develop because we're obsessed with using as little sugar as possible without artificial sweeteners or sugar alcohols. Made with delicious, premium ingredients, it's now our top seller, and we continue to obsess over every batch! Ingredients you can see & pronounce®
Ingredients
Almonds; Peanuts; Chicory Root Fiber; Honey; Palm Kernel Oil; Sugar; Glucose Syrup; Rice Flour; Unsweetened Chocolate; Alkalized Cocoa; Sea Salt; Soy Lecithin; Natural Flavor; Cocoa Butter;
Nutrition Facts
servings pr container
Product Number: 00602652270284
Sale Information
On Sale!
Sale price valid from 2/5/2023 until 2/11/2023
Description
Kind Dark Chocolate Nuts & Sea Salt Bars, 1.4 oz, 6 count Kind® Dark Chocolate Nuts & Sea Salt took us two years to develop because we're obsessed with using as little sugar as possible without artificial sweeteners or sugar alcohols. Made with delicious, premium ingredients, it's now our top seller, and we continue to obsess over every batch! Ingredients you can see & pronounce®
Product Number: 00602652270284
Ingredients
Almonds; Peanuts; Chicory Root Fiber; Honey; Palm Kernel Oil; Sugar; Glucose Syrup; Rice Flour; Unsweetened Chocolate; Alkalized Cocoa; Sea Salt; Soy Lecithin; Natural Flavor; Cocoa Butter;
Nutrition Facts
servings pr container
Product Number: 00602652270284