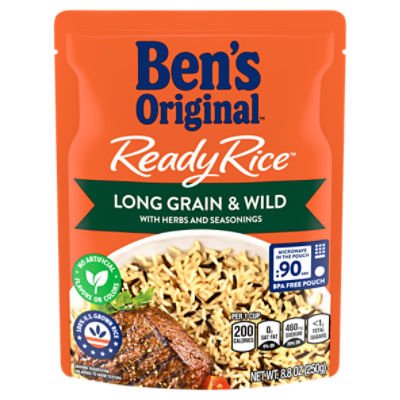 Ben's Original Ready Rice Long Grain & Wild, , 8.8 Ounce
Sale Information
On Sale!
Sales price valid from 10/2/2022 until 10/8/2022
Description
BEN'S ORIGINAL™ READY RICE™, Long Grain & Wild, 8.8 oz. pouch You don't need a lot of time to get a lot flavor with Ben´s Original™ Long Grain & Wild READY RICE™! In just 90 seconds you can serve your family a delicious rice dish with the flavor of 23 herbs and seasonings. You know us as the brand behind the world's best rice. Now find out how we're making the world better, creating opportunities that offer everyone a seat at the table. Visit Bensoriginal.com to learn more. Good to know - Enjoy as part of a balanced weekly diet
Ingredients
Water; Parboiled Long Grain Rice; Wild Rice; Less than 2% of: Canola Oil†, Yeast Extract, Salt, Onion*, Sugar, Torula Yeast, Garlic*, Natural Flavors, Spices, Parsley*, Spinach*, Sunflower Oil†, Citric Acid, Maltodextrin, Mushroom*, Vitamins and Minerals [Calcium (Calcium Carbonate), Iron (Iron Phosphate), Vitamin B3 (Niacinamide), Vitamin B1 (Thiamine Mononitrate), Folic Acid], Celery*; *Dried; †Adds a trivial amount of Saturated Fat;
Nutrition Facts
servings pr container
Product Number: 00054800423316
Sale Information
On Sale!
Sales price valid from 10/2/2022 until 10/8/2022
Description
BEN'S ORIGINAL™ READY RICE™, Long Grain & Wild, 8.8 oz. pouch You don't need a lot of time to get a lot flavor with Ben´s Original™ Long Grain & Wild READY RICE™! In just 90 seconds you can serve your family a delicious rice dish with the flavor of 23 herbs and seasonings. You know us as the brand behind the world's best rice. Now find out how we're making the world better, creating opportunities that offer everyone a seat at the table. Visit Bensoriginal.com to learn more. Good to know - Enjoy as part of a balanced weekly diet
Product Number: 00054800423316
Ingredients
Water; Parboiled Long Grain Rice; Wild Rice; Less than 2% of: Canola Oil†, Yeast Extract, Salt, Onion*, Sugar, Torula Yeast, Garlic*, Natural Flavors, Spices, Parsley*, Spinach*, Sunflower Oil†, Citric Acid, Maltodextrin, Mushroom*, Vitamins and Minerals [Calcium (Calcium Carbonate), Iron (Iron Phosphate), Vitamin B3 (Niacinamide), Vitamin B1 (Thiamine Mononitrate), Folic Acid], Celery*; *Dried; †Adds a trivial amount of Saturated Fat;
Nutrition Facts
servings pr container
Product Number: 00054800423316