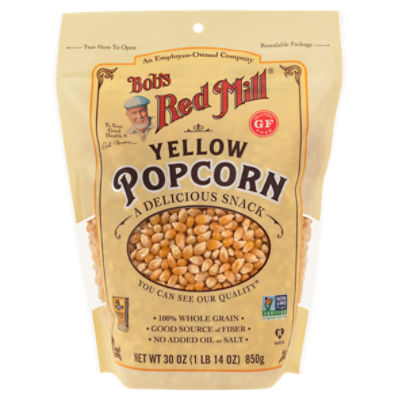 Bob's Red Mill Yellow , Popcorn, 30 Ounce
Sale Information
On Sale!
Sales price valid from 11/27/2022 until 12/3/2022
Description
Bob's Red Mill Whole Yellow Popcorn, 30 oz Fluffy and crunchy with a consistent pop. Pop on stove, in microwave, or air popper. Tested and confirmed Gluten Free in our quality control laboratory. Dear Friends, While there are hundreds of new snack options these days, we still think there's nothing better than a bowlful of hot, crunchy popcorn. That's because, unlike many of today's highly processed products, our Yellow Popcorn has just one ingredient: whole grain corn. Virtually unprocessed, our premium quality popcorn is a good source of fiber and has a naturally sweet flavor. It's a delicious treat that's easy to make, perfect to share and impossible to put down. You Can See Our Quality®
Ingredients
Whole Grain Yellow Corn;
Nutrition Facts
servings pr container
Product Number: 00039978023070
Sale Information
On Sale!
Sales price valid from 11/27/2022 until 12/3/2022
Description
Bob's Red Mill Whole Yellow Popcorn, 30 oz Fluffy and crunchy with a consistent pop. Pop on stove, in microwave, or air popper. Tested and confirmed Gluten Free in our quality control laboratory. Dear Friends, While there are hundreds of new snack options these days, we still think there's nothing better than a bowlful of hot, crunchy popcorn. That's because, unlike many of today's highly processed products, our Yellow Popcorn has just one ingredient: whole grain corn. Virtually unprocessed, our premium quality popcorn is a good source of fiber and has a naturally sweet flavor. It's a delicious treat that's easy to make, perfect to share and impossible to put down. You Can See Our Quality®
Product Number: 00039978023070
Ingredients
Whole Grain Yellow Corn;
Nutrition Facts
servings pr container
Product Number: 00039978023070