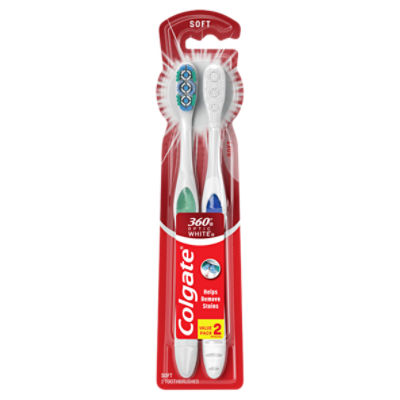 Colgate 360° Optic White Whitening Soft, Toothbrush, 2 Each
Sale Information
On Sale!
Sales price valid from 11/27/2022 until 12/3/2022
Description
Colgate 360° Optic White Whitening Soft Toothbrush - 2 Count The Colgate 360⁰ Optic White soft manual whitening toothbrush is designed with whitening cups that hold toothpaste to effectively help remove surface stains for a naturally white smile. Soft toothbrush bristles, colgate optic white teeth whitening, teeth whitening toothbrush, at home teeth whitening, cheek tongue cleaner, value pack, twin pack, full head Whitening cups hold toothpaste to help effectively remove surface stains for a whiter smile. Polishing bristles help to whiten teeth by polishing away surface stains and clean hard to reach areas. Cleans: ✓ Teeth ✓ Cheeks ✓ Tongue ✓ Gums
Product Number: 00035000680488
Sale Information
On Sale!
Sales price valid from 11/27/2022 until 12/3/2022
Description
Colgate 360° Optic White Whitening Soft Toothbrush - 2 Count The Colgate 360⁰ Optic White soft manual whitening toothbrush is designed with whitening cups that hold toothpaste to effectively help remove surface stains for a naturally white smile. Soft toothbrush bristles, colgate optic white teeth whitening, teeth whitening toothbrush, at home teeth whitening, cheek tongue cleaner, value pack, twin pack, full head Whitening cups hold toothpaste to help effectively remove surface stains for a whiter smile. Polishing bristles help to whiten teeth by polishing away surface stains and clean hard to reach areas. Cleans: ✓ Teeth ✓ Cheeks ✓ Tongue ✓ Gums
Product Number: 00035000680488
Product Number: 00035000680488