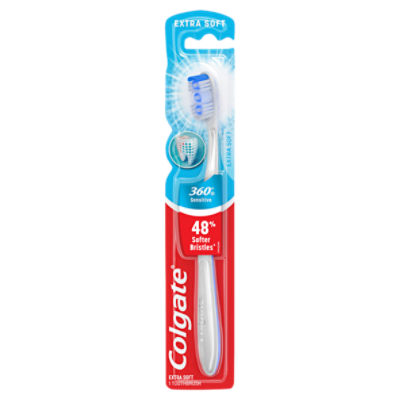 Colgate 360° Sensitive Extra Soft, Toothbrush, 1 Each
Sale Information
On Sale!
Sales price valid from 12/4/2022 until 12/10/2022
Description
Colgate 360° Sensitive Extra Soft Toothbrush The Colgate 360⁰ Enamel Health Sensitive manual toothbrush for sensitive teeth has extra soft bristles to help protect enamel surfaces and gums, a raised cleaning tip to help clean hard-to-reach areas and the unique cheek & tongue cleaner that helps remove odor-causing bacteria. extra soft bristled toothbrush, toothbrush for sensitive teeth and gums, tongue and cheek cleaner, colgate enamel health, compact head
Product Number: 00035000681768
Sale Information
On Sale!
Sales price valid from 12/4/2022 until 12/10/2022
Description
Colgate 360° Sensitive Extra Soft Toothbrush The Colgate 360⁰ Enamel Health Sensitive manual toothbrush for sensitive teeth has extra soft bristles to help protect enamel surfaces and gums, a raised cleaning tip to help clean hard-to-reach areas and the unique cheek & tongue cleaner that helps remove odor-causing bacteria. extra soft bristled toothbrush, toothbrush for sensitive teeth and gums, tongue and cheek cleaner, colgate enamel health, compact head
Product Number: 00035000681768
Product Number: 00035000681768