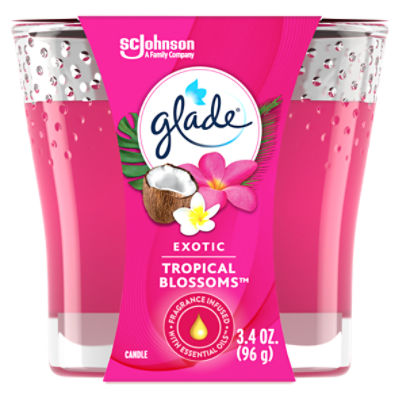 Glade Exotic Tropical Blossoms Wax Infused with Essential Oils, Candle Air Freshener, 3.4 Ounce
Sale Information
On Sale!
Sales price valid from 12/4/2022 until 12/10/2022
Description
Glade Jar Candle, Exotic Tropical Blossoms, Air Freshener, Wax Infused With Essential Oils, 3.4 OZ Glade Exotic Tropical Blossoms is a comforting bouquet of 12 harmonic essential oils: exotic monoi blossom, sweet coconut milk, vanilla and amber, intriguing elderflower and jasmine, juicy blood orange, bambino melon and kiwi-mango. This candle air freshener can take you away to the luxury, sunny, exotic tropics. Reach for a Glade Scented Oil Candle air freshener to create your own tropical oasis in one second and pamper yourself with this relaxing, fresh and warm scent. • Glade Exotic Tropical Blossoms Candle Air Freshener will transport you instantaneously to your own slice of paradise • Artfully-crafted scent with fresh notes of monoi blossom, elderflower and coconut milk • Candle air freshener for the home with a tropical fragrance infused with essential oils, that stays true longer • Enjoy the glow of fragrance infused with essential oils with a Glade Scented Oil Candle • Light a Glade Scented Oil Candle air freshener to enhance any room of your home: Bedroom, Kitchen, Bathroom Inspired from unwinding strolls on the beach... fragrance crafted with notes of monoi blossoms and coconut milk
Ingredients
Synthetic Wax; Petrolatum; Microcrystalline Wax; Fragrances; Benzophenone - 12; Polyoxypropylene (12) Dimethicone; Colorant; SCJ Formula # 35*36492;
Product Number: 00046500017964
Sale Information
On Sale!
Sales price valid from 12/4/2022 until 12/10/2022
Description
Glade Jar Candle, Exotic Tropical Blossoms, Air Freshener, Wax Infused With Essential Oils, 3.4 OZ Glade Exotic Tropical Blossoms is a comforting bouquet of 12 harmonic essential oils: exotic monoi blossom, sweet coconut milk, vanilla and amber, intriguing elderflower and jasmine, juicy blood orange, bambino melon and kiwi-mango. This candle air freshener can take you away to the luxury, sunny, exotic tropics. Reach for a Glade Scented Oil Candle air freshener to create your own tropical oasis in one second and pamper yourself with this relaxing, fresh and warm scent. • Glade Exotic Tropical Blossoms Candle Air Freshener will transport you instantaneously to your own slice of paradise • Artfully-crafted scent with fresh notes of monoi blossom, elderflower and coconut milk • Candle air freshener for the home with a tropical fragrance infused with essential oils, that stays true longer • Enjoy the glow of fragrance infused with essential oils with a Glade Scented Oil Candle • Light a Glade Scented Oil Candle air freshener to enhance any room of your home: Bedroom, Kitchen, Bathroom Inspired from unwinding strolls on the beach... fragrance crafted with notes of monoi blossoms and coconut milk
Product Number: 00046500017964
Ingredients
Synthetic Wax; Petrolatum; Microcrystalline Wax; Fragrances; Benzophenone - 12; Polyoxypropylene (12) Dimethicone; Colorant; SCJ Formula # 35*36492;
Product Number: 00046500017964