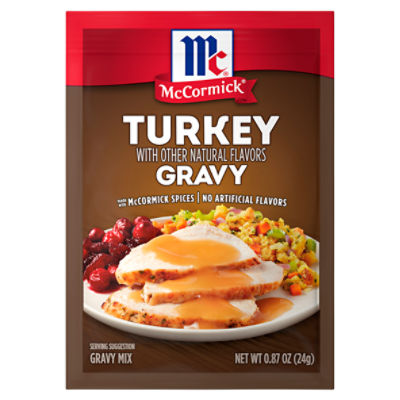 McCormick Turkey Gravy, Seasoning Mix, 0.87 Ounce
Sale Information
On Sale!
Sales price valid from 12/4/2022 until 12/10/2022
Description
McCormick Turkey Gravy Seasoning Mix, 0.87 oz Delicious homemade turkey gravy in 5 minutes! Made with McCormick spice and no artificial flavors, this smooth gravy deserves its own holiday. It adds savory goodness to mashed potatoes, roast turkey, roast chicken, and stuffing. With McCormick Turkey Gravy Mix, you can serve a rich grave for everyday as well as holiday meals that you can fell good about. This mix doesn't contain added MSG* or artificial flavors, so you can pour it over mashed potatoes or stuffing knowing you're serving your family gathering the very best. And it's ready in 5 minutes - just mix 1 package with a cup of water and simmer for 1 minute for a tasty holiday gravy. Use our Gravy Mix and leftover turkey to prepare pot pie and chowder recipes. *except those naturally occurring glutamates
Ingredients
Enriched Wheat Flour (Flour, Niacin, Iron, Thiamine Mononitrate, Riboflavin, Folic Acid); Wheat Starch; Whey (Milk); Salt; Chicken Fat; Turkey Powder; Onion; Torula Yeast; Caramel Color; Disodium Inosinate and Guanylate (Flavor Enhancers); Spices (including Celery Seed); Extractives of Rosemary; Extractives of Paprika; Extractives of Sage; Butyric Acid & Natural Flavor;
Nutrition Facts
4 servings pr container
Product Number: 00052100090306
Sale Information
On Sale!
Sales price valid from 12/4/2022 until 12/10/2022
Description
McCormick Turkey Gravy Seasoning Mix, 0.87 oz Delicious homemade turkey gravy in 5 minutes! Made with McCormick spice and no artificial flavors, this smooth gravy deserves its own holiday. It adds savory goodness to mashed potatoes, roast turkey, roast chicken, and stuffing. With McCormick Turkey Gravy Mix, you can serve a rich grave for everyday as well as holiday meals that you can fell good about. This mix doesn't contain added MSG* or artificial flavors, so you can pour it over mashed potatoes or stuffing knowing you're serving your family gathering the very best. And it's ready in 5 minutes - just mix 1 package with a cup of water and simmer for 1 minute for a tasty holiday gravy. Use our Gravy Mix and leftover turkey to prepare pot pie and chowder recipes. *except those naturally occurring glutamates
Product Number: 00052100090306
Ingredients
Enriched Wheat Flour (Flour, Niacin, Iron, Thiamine Mononitrate, Riboflavin, Folic Acid); Wheat Starch; Whey (Milk); Salt; Chicken Fat; Turkey Powder; Onion; Torula Yeast; Caramel Color; Disodium Inosinate and Guanylate (Flavor Enhancers); Spices (including Celery Seed); Extractives of Rosemary; Extractives of Paprika; Extractives of Sage; Butyric Acid & Natural Flavor;
Nutrition Facts
4 servings pr container
Product Number: 00052100090306