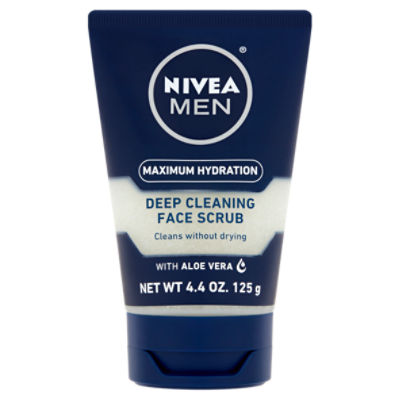 Nivea Men Maximum Hydration Deep Cleaning Face Scrub, 4.4 oz
Sale Information
On Sale!
Sale price valid from 2/5/2023 until 2/11/2023
Description
Nivea Men Maximum Hydration Deep Cleaning Face Scrub, 4.4 oznExternal influences like wind, rain, sun and changing temperatures can be tough on your skin. That's why it needs moisturization and care.nnWhat Do You Get?nThe foaming cleansing scrub is formulated with aloe vera and pro-vitamin B5, and also contains fine scrub particles:n• Deeply cleanses your skin to unclog pores and helps to clear away impurities and oiln• Refines and smoothes complexion by removing dead skinn• When used before shaving, improves razor glidennResultn• Skin feels thoroughly clean, smooth, and healthyn• Skin does not feel tight or dryn• Skin feels refreshed and cared for
Ingredients
Water; Microcrystalline Cellulose; Cocamidopropyl Betaine; Sodium Myreth Sulfate; Acrylates Copolymer; PEG-200 Hydrogenated Glyceryl Palmate; Decyl Glucoside; Glycerin; Panthenol; Aloe Barbadensis Leaf Juice Powder; Menthol; Tocopheryl Acetate; Alcohol Denat.; PEG-40 Hydrogenated Castor Oil; Fragrance; Lactose; Cellulose; Sodium Lauryl Sulfate; Hydroxypropyl Methylcellulose; Sodium Hydroxide; Trisodium EDTA; Benzophenone-4; Phenoxyethanol; Methylparaben; Ultramarines;
Product Number: 00072140813598
Sale Information
On Sale!
Sale price valid from 2/5/2023 until 2/11/2023
Description
Nivea Men Maximum Hydration Deep Cleaning Face Scrub, 4.4 oznExternal influences like wind, rain, sun and changing temperatures can be tough on your skin. That's why it needs moisturization and care.nnWhat Do You Get?nThe foaming cleansing scrub is formulated with aloe vera and pro-vitamin B5, and also contains fine scrub particles:n• Deeply cleanses your skin to unclog pores and helps to clear away impurities and oiln• Refines and smoothes complexion by removing dead skinn• When used before shaving, improves razor glidennResultn• Skin feels thoroughly clean, smooth, and healthyn• Skin does not feel tight or dryn• Skin feels refreshed and cared for
Product Number: 00072140813598
Ingredients
Water; Microcrystalline Cellulose; Cocamidopropyl Betaine; Sodium Myreth Sulfate; Acrylates Copolymer; PEG-200 Hydrogenated Glyceryl Palmate; Decyl Glucoside; Glycerin; Panthenol; Aloe Barbadensis Leaf Juice Powder; Menthol; Tocopheryl Acetate; Alcohol Denat.; PEG-40 Hydrogenated Castor Oil; Fragrance; Lactose; Cellulose; Sodium Lauryl Sulfate; Hydroxypropyl Methylcellulose; Sodium Hydroxide; Trisodium EDTA; Benzophenone-4; Phenoxyethanol; Methylparaben; Ultramarines;
Product Number: 00072140813598