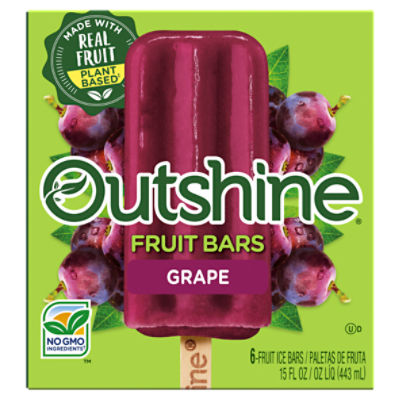 Outshine Grape, Fruit Ice Bars, 14.7 Fluid ounce
$3.50
was $5.49
$0.24/fl oz
Sale Information
On Sale!
Sales price valid from 10/2/2022 until 10/8/2022
Description
Outshine Grape Fruit Ice Bars, 6 count, 14.7 fl oz No GMO Ingredients™† †SGS verified the Nestlé process for manufacturing this product with no GMO ingredients sgs.com/no-gmo Every bite of an Outsihne® Fruit Bar tastes like biting into a piece of ripe fruit. Made with real fruit and fruit juice, it's the snack that refreshes you from the inside out. No artificial colors or flavors+ +Added colors from natural sources
Ingredients
Concord Grape Puree; Water; Cane Sugar; Grape Juice for color; Malic Acid; Guar Gum; Natural Flavor; Ascorbic Acid (Vitamin C); Carob Bean Gum;
Nutrition Facts
6 servings pr container
Product Number: 00041548244044
Sale Information
On Sale!
Sales price valid from 10/2/2022 until 10/8/2022
Description
Outshine Grape Fruit Ice Bars, 6 count, 14.7 fl oz No GMO Ingredients™† †SGS verified the Nestlé process for manufacturing this product with no GMO ingredients sgs.com/no-gmo Every bite of an Outsihne® Fruit Bar tastes like biting into a piece of ripe fruit. Made with real fruit and fruit juice, it's the snack that refreshes you from the inside out. No artificial colors or flavors+ +Added colors from natural sources
Product Number: 00041548244044
Ingredients
Concord Grape Puree; Water; Cane Sugar; Grape Juice for color; Malic Acid; Guar Gum; Natural Flavor; Ascorbic Acid (Vitamin C); Carob Bean Gum;
Nutrition Facts
6 servings pr container
Product Number: 00041548244044