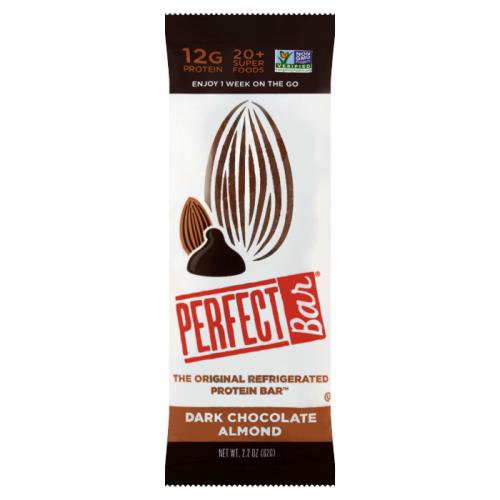 Perfect Bar Dark Chocolate Almond The Original Refrigerated, Protein Bar, 2.5 Ounce
Sale Information
On Sale!
Sales price valid from 11/20/2022 until 11/26/2022
Description
Perfect Bar Dark Chocolate Almond The Original Refrigerated Protein Bar, 2.2 oz DARK CHOCOLATE ALMOND PROTEIN BAR: Made with ground nut butters & organic honey, Perfect Bar is a delicious blend of creamy and crunchy with a cookie-dough-like texture. Nutritious, delicious & truly tasty! SUPERFOOD: Superfoods like fruits, vegetables, seeds & oils are found in every bar to provide a convenient source of vitamins & minerals. Plus, we use whole food protein & never rely on whey or soy. THE INSIDE MATTERS: Featuring clean ingredients, whole food nutrition & a low glycemic index, these gluten-free snack bars help keep you fuller, longer. Non-GMO & kosher. STORED IN THE FRIDGE, PERFECT ON THE GO: Perfect Bar is kept refrigerated for optimal texture & tastiness, but stays good for one week out of the fridge. This snack is a great way to increase your protein intake on the go. PERFECT SNACKS: Our nutritious bars are great for an active lifestyle. Enjoy the full line of Perfect Snacks including Perfect Bar, Perfect Bar Snack Size & Perfect Peanut Butter Cups
Ingredients
Almond Butter; Honey*; Nonfat Dry Milk*; Dark Chocolate*† (Chocolate*, Cane Sugar*, Cocoa Butter*, Sunflower Lecithin); Almond Pieces; Cocoa*; Dried Whole Egg Powder*; Rice Protein*; Vanilla Extract*; Dried Whole Food Powders (Kale*, Flax Seed*, Rose Hip*, Orange*, Lemon*, Papaya*, Tomato*, Apple*, Alfalfa*, Celery*, Kelp*, Dulse*, Carrot*, Spinach*); Flax Seed Oil*; Sunflower 0il*; Sesame Seed Oil*; Olive Oil*; Pumpkin Seed Oil*; *Organic; †Fair Trade Chocolate;
Nutrition Facts
servings pr container
Product Number: 00855569210205
Sale Information
On Sale!
Sales price valid from 11/20/2022 until 11/26/2022
Description
Perfect Bar Dark Chocolate Almond The Original Refrigerated Protein Bar, 2.2 oz DARK CHOCOLATE ALMOND PROTEIN BAR: Made with ground nut butters & organic honey, Perfect Bar is a delicious blend of creamy and crunchy with a cookie-dough-like texture. Nutritious, delicious & truly tasty! SUPERFOOD: Superfoods like fruits, vegetables, seeds & oils are found in every bar to provide a convenient source of vitamins & minerals. Plus, we use whole food protein & never rely on whey or soy. THE INSIDE MATTERS: Featuring clean ingredients, whole food nutrition & a low glycemic index, these gluten-free snack bars help keep you fuller, longer. Non-GMO & kosher. STORED IN THE FRIDGE, PERFECT ON THE GO: Perfect Bar is kept refrigerated for optimal texture & tastiness, but stays good for one week out of the fridge. This snack is a great way to increase your protein intake on the go. PERFECT SNACKS: Our nutritious bars are great for an active lifestyle. Enjoy the full line of Perfect Snacks including Perfect Bar, Perfect Bar Snack Size & Perfect Peanut Butter Cups
Product Number: 00855569210205
Ingredients
Almond Butter; Honey*; Nonfat Dry Milk*; Dark Chocolate*† (Chocolate*, Cane Sugar*, Cocoa Butter*, Sunflower Lecithin); Almond Pieces; Cocoa*; Dried Whole Egg Powder*; Rice Protein*; Vanilla Extract*; Dried Whole Food Powders (Kale*, Flax Seed*, Rose Hip*, Orange*, Lemon*, Papaya*, Tomato*, Apple*, Alfalfa*, Celery*, Kelp*, Dulse*, Carrot*, Spinach*); Flax Seed Oil*; Sunflower 0il*; Sesame Seed Oil*; Olive Oil*; Pumpkin Seed Oil*; *Organic; †Fair Trade Chocolate;
Nutrition Facts
servings pr container
Product Number: 00855569210205