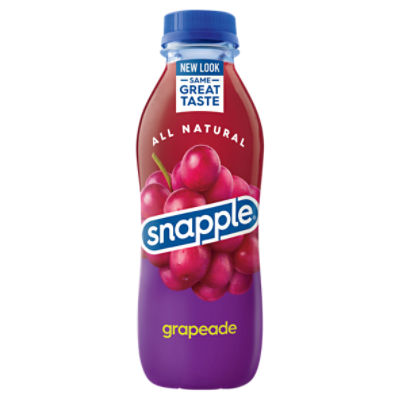 Sale Information
On Sale!
Sale price valid from 2/5/2023 until 2/11/2023
Description
Snapple Grapeade Flavored Juice Drink, 16 fl oz Flavored Juice Drink from Concentrate with Other Natural Flavors There's a bunch of reasons to love Grapeade, but since we're originally from New York we'll cut to the chase like a true New Yorker. This stuff is grape! (get it?) It's delightfully sweet, slightly tart, refreshingly juicy and oh so purplicious just like a grape juice drink made from the best stuff on earth should be. Made from the Best Stuff on Earth!®
Ingredients
Filtered Water; Sugar; Apple, Pear, and Grape Juice Concentrates; Citric Acid; Natural Flavors;
Nutrition Facts
servings pr container
Product Number: 00076183003275
Sale Information
On Sale!
Sale price valid from 2/5/2023 until 2/11/2023
Description
Snapple Grapeade Flavored Juice Drink, 16 fl oz Flavored Juice Drink from Concentrate with Other Natural Flavors There's a bunch of reasons to love Grapeade, but since we're originally from New York we'll cut to the chase like a true New Yorker. This stuff is grape! (get it?) It's delightfully sweet, slightly tart, refreshingly juicy and oh so purplicious just like a grape juice drink made from the best stuff on earth should be. Made from the Best Stuff on Earth!®
Product Number: 00076183003275
Ingredients
Filtered Water; Sugar; Apple, Pear, and Grape Juice Concentrates; Citric Acid; Natural Flavors;
Nutrition Facts
servings pr container
Product Number: 00076183003275