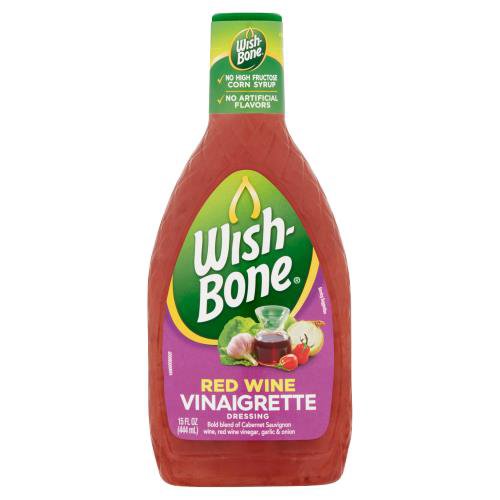 Wish-Bone Red Wine Vinaigrette Dressing, 15 fl oz
Sale Information
On Sale!
Sales price valid from 1/29/2023 until 2/4/2023
Description
Wish-Bone Red Wine Vinaigrette Dressing, 15 fl oz Bold Blend of Cabernet Sauvignon Wine, Red Wine Vinegar, Garlic & Onion Marinade magic! Our Red Wine Vinaigrette is made with Cabernet Sauvignon wine, red wine vinegar, and robust garlic. Just let that sink in. Good source of omega-3 ALA** ** Contains 300mg ALA per serving which is 18% of the 1.6g daily value for ALA
Ingredients
Water; Red Wine Vinegar; Soybean Oil; Sugar; Corn Syrup; Cabernet Sauvignon Wine; Contains 2% or less of: Maltodextrin (Corn), Salt, Extra Virgin Olive Oil, Garlic*, Onion*, Xanthan Gum, Stevia Leaf Extract (Rebaudioside A), Natural Flavors, Colors added, Sorbic Acid and Calcium Disodium EDTA (to protect quality); *Dried;
Nutrition Facts
15 servings pr container
Product Number: 00041321005800
Sale Information
On Sale!
Sales price valid from 1/29/2023 until 2/4/2023
Description
Wish-Bone Red Wine Vinaigrette Dressing, 15 fl oz Bold Blend of Cabernet Sauvignon Wine, Red Wine Vinegar, Garlic & Onion Marinade magic! Our Red Wine Vinaigrette is made with Cabernet Sauvignon wine, red wine vinegar, and robust garlic. Just let that sink in. Good source of omega-3 ALA** ** Contains 300mg ALA per serving which is 18% of the 1.6g daily value for ALA
Product Number: 00041321005800
Ingredients
Water; Red Wine Vinegar; Soybean Oil; Sugar; Corn Syrup; Cabernet Sauvignon Wine; Contains 2% or less of: Maltodextrin (Corn), Salt, Extra Virgin Olive Oil, Garlic*, Onion*, Xanthan Gum, Stevia Leaf Extract (Rebaudioside A), Natural Flavors, Colors added, Sorbic Acid and Calcium Disodium EDTA (to protect quality); *Dried;
Nutrition Facts
15 servings pr container
Product Number: 00041321005800