Pantry
Soups & Canned Goods (2)
Search results
Nasoya Plantspired Breakfast Scramble Superfood Skillet, 7 oz, 7 Ounce, $5.99
Chorizo-Inspired Protein-Rich* Tofu Scramble Made with Hearty Potatoes and Green Peppersnn19g Protein per serving*n*See Nutrition Information for Fat ContentnnBe inspired. Be Plantspired.nCrafted with nutritious tofu crumbles and wholesome vegetables, we've created a Super food that is convenient, filing and always delicious! For anyone who enjoys eating plant-based food - or just wants to add more sustainable plant foods to their meal options - Superfood Skillets are a perfect solution for your busy lifestyle.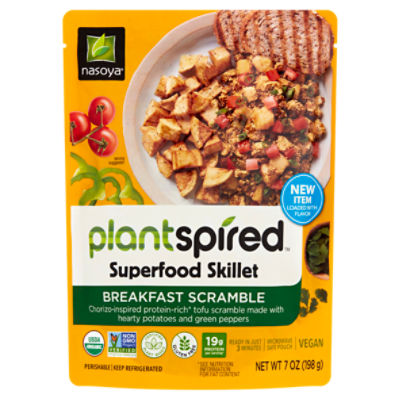 Organic
Plant Goodness
Gluten Free
Nasoya Plantspired Breakfast Scramble Superfood Skillet, 7 oz, 7 Ounce
Open Product Description
Can't find what you're looking for?