Search results
Martin's Sweet Dinner Potato Rolls, 12 count, 15 oz, 15 Ounce, $4.59
Martin's Sweet Dinner Potato Rolls, 12 count, 15 oz The Taste is Golden® Martin's® Dinner Rolls: The Sweet Edition Meal times with loved ones are precious. We all have sweet memories of gathering around a dinner table, picnic blanket, or campfire, laughing with loved ones while sharing a meal. Those moments never change, but how and where we eat sometimes does, so we've remixed our dinner roll recipe, making it perfectly sweet for any dining occasion! Whether it's a French toast casserole for breakfast, sweet and savory sliders for lunch, an accompaniment to the nicest dinner, or straight out of the bag, Martin's® Sweet Dinner Potato Rolls are sure to add some extra sweetness to your day! Made using only high-quality ingredients and sweetened with pure cane sugar, Martin's Sweet Dinner Potato Rolls still have Martin's® classic soft, pillowy texture that the whole family will love! Looking for a bite-sized version? Check out Martin's® Sweet Dinner Potato Rolls, made with the same great recipe! High quality ingredients = better rolls and bread! We use high protein unbleached wheat flour, real milk, pure cane sugar, and real butter ☑ No artificial dyes ☑ No tree nuts or peanuts ☑ No soy ☑ No high fructose corn syrup We source non-GMO ingredients. Delicious to Serve at Every Meal & for Sandwiches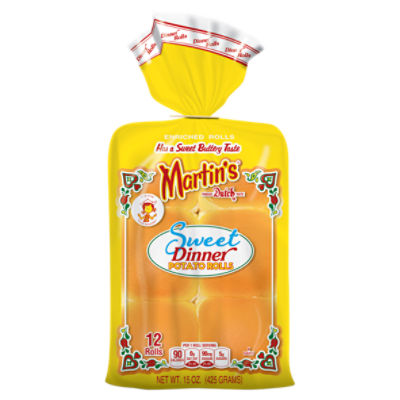 No High Fructose Corn Syrup
Martin's Sweet Dinner Potato Rolls, 12 count, 15 oz, 15 Ounce
Open Product Description
Martin's Sweet Party Potato Rolls, 24 count, 15 oz, 15 Ounce, $4.79
Martin's Sweet Party Potato Rolls, 24 count, 15 oz The Taste is Golden® Martin's® Party Rolls: The Sweet Edition Meal times with loved ones are precious. We all have sweet memories of gathering around a dinner table, picnic blanket, or campfire, laughing with loved ones while sharing a meal. Those moments never change, but how and where we eat sometimes does, so we've remixed our dinner roll recipe, making it perfectly sweet for any dining occasion! Whether it's a French toast casserole for breakfast, sweet and savory sliders for lunch, an accompaniment to the nicest dinner, or straight out of the bag, Martin's® Sweet Party Potato Rolls are sure to add some extra sweetness to your day! Made using only high-quality ingredients and sweetened with pure cane sugar, Martin's Sweet Party Potato Rolls still have Martin's® classic soft, pillowy texture that the whole family will love! Looking for a dinner-sized version? Check out Martin's® Sweet Dinner Potato Rolls, made with the same great recipe!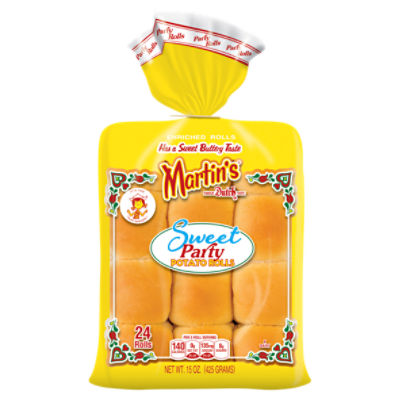 No High Fructose Corn Syrup
Martin's Sweet Party Potato Rolls, 24 count, 15 oz, 15 Ounce
Open Product Description
Can't find what you're looking for?