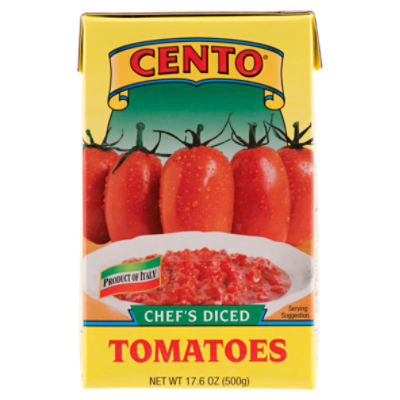 Cento Chef's Diced, Tomatoes, 17.6 Ounce
Sale Information
On Sale!
Sales price valid from 12/4/2022 until 12/10/2022
Description
Cento Chef's Diced Tomatoes, 17.6 oz Cento Chef's Diced Tomatoes are the perfect quick and healthy base for any marinara, salsa or tomato-based soup. When it comes to the best tomato products, you can always "Trust Your Family with Our Family.''®
Nutrition Facts
servings pr container
Product Number: 00070796300097
Sale Information
On Sale!
Sales price valid from 12/4/2022 until 12/10/2022
Description
Cento Chef's Diced Tomatoes, 17.6 oz Cento Chef's Diced Tomatoes are the perfect quick and healthy base for any marinara, salsa or tomato-based soup. When it comes to the best tomato products, you can always "Trust Your Family with Our Family.''®
Product Number: 00070796300097
Nutrition Facts
servings pr container
Product Number: 00070796300097