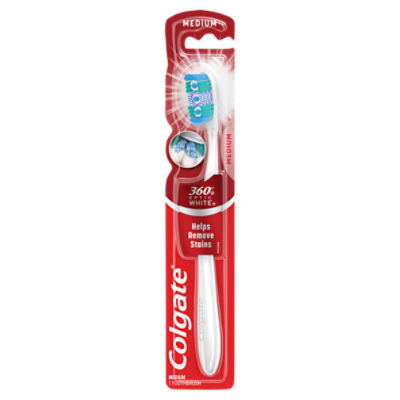 Colgate 360° Optic White Medium, Toothbrush, 1 Each
Sale Information
On Sale!
Sales price valid from 12/4/2022 until 12/10/2022
Description
Colgate 360° Optic White Medium Toothbrush The Colgate 360⁰ Optic White medium manual whitening toothbrush is designed with whitening cups that hold toothpaste to effectively help remove surface stains for a naturally white smile. It also features polishing spiral bristles, a cheek & tongue cleaner, and an ergonomic handle design. medium toothbrush bristles, colgate optic white teeth whitening, teeth whitening toothbrush, at home teeth whitening, cheek tongue cleaner, full head
Product Number: 00035000680464
Sale Information
On Sale!
Sales price valid from 12/4/2022 until 12/10/2022
Description
Colgate 360° Optic White Medium Toothbrush The Colgate 360⁰ Optic White medium manual whitening toothbrush is designed with whitening cups that hold toothpaste to effectively help remove surface stains for a naturally white smile. It also features polishing spiral bristles, a cheek & tongue cleaner, and an ergonomic handle design. medium toothbrush bristles, colgate optic white teeth whitening, teeth whitening toothbrush, at home teeth whitening, cheek tongue cleaner, full head
Product Number: 00035000680464
Product Number: 00035000680464