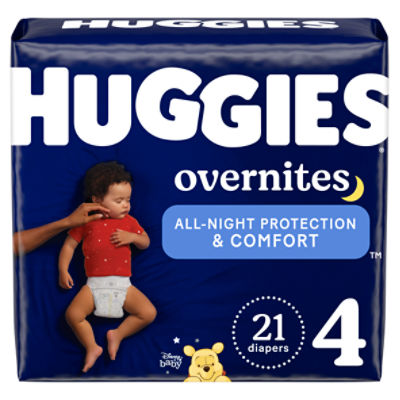 Huggies Overnites Diapers, Size 4, 22-37 lb, 21 count
$11.49
was $12.79
$0.55 each
Sale Information
On Sale!
Sales price valid from 1/29/2023 until 2/4/2023
Description
Huggies Overnites Diapers, Size 4, 22-37 lb, 21 count Say goodnight to midnight changes with Huggies Overnites, the #1 Best Selling Night-Time Diaper.* Our most absorbent diaper features a DryTouch Liner with extra absorbency that locks away moisture for up to 12 hours of overnight protection, keeping your baby's skin dry as they sleep. With a contoured shape for better leak protection and a pocketed waistband to prevent blowouts, Huggies Overnites provides all-night protection and comfort so your baby can have dry nights and happy mornings. These disposable overnight diapers also feature Huggies' SnugFit Waistband with Double Grip Strips for a secure fit, perfect for babies starting to roll and toss during sleep. Plus, a breathable outer cover help keep your baby's sensitive skin dry and comfortable, while Huggies' wetness indicator lets you know if your little one needs a diaper change. Huggies Overnites feature adorable Disney Winnie the Pooh designs and are available in size 3 (16-28 lbs), size 4 (22-37 lbs), size 5 (27+ lbs) and size 6 (35+ lbs). For ultimate daytime protection, try Huggies Little Movers! Join the new Huggies Rewards+ powered by Fetch to get rewarded. Earn points on Huggies diapers and wipes, in addition to thousands of other products to redeem for hundreds of gift cards. Download the Fetch Rewards app to get started today! (*Based on US Nielsen data ending 2/5/2022)
Product Number: 00036000495393
Sale Information
On Sale!
Sales price valid from 1/29/2023 until 2/4/2023
Description
Huggies Overnites Diapers, Size 4, 22-37 lb, 21 count Say goodnight to midnight changes with Huggies Overnites, the #1 Best Selling Night-Time Diaper.* Our most absorbent diaper features a DryTouch Liner with extra absorbency that locks away moisture for up to 12 hours of overnight protection, keeping your baby's skin dry as they sleep. With a contoured shape for better leak protection and a pocketed waistband to prevent blowouts, Huggies Overnites provides all-night protection and comfort so your baby can have dry nights and happy mornings. These disposable overnight diapers also feature Huggies' SnugFit Waistband with Double Grip Strips for a secure fit, perfect for babies starting to roll and toss during sleep. Plus, a breathable outer cover help keep your baby's sensitive skin dry and comfortable, while Huggies' wetness indicator lets you know if your little one needs a diaper change. Huggies Overnites feature adorable Disney Winnie the Pooh designs and are available in size 3 (16-28 lbs), size 4 (22-37 lbs), size 5 (27+ lbs) and size 6 (35+ lbs). For ultimate daytime protection, try Huggies Little Movers! Join the new Huggies Rewards+ powered by Fetch to get rewarded. Earn points on Huggies diapers and wipes, in addition to thousands of other products to redeem for hundreds of gift cards. Download the Fetch Rewards app to get started today! (*Based on US Nielsen data ending 2/5/2022)
Product Number: 00036000495393
Product Number: 00036000495393