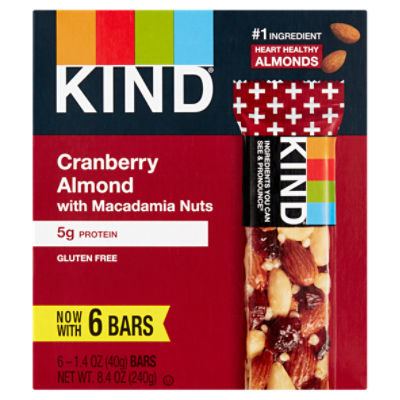 Kind Cranberry Almond with Macadamia Nuts Bars, 1.4 oz, 6 count
Sale Information
On Sale!
Sales price valid from 1/22/2023 until 1/28/2023
Description
Kind Cranberry Almond with Macadamia Nuts Bars, 1.4 oz, 6 count Not all fats are created equal, and sometimes, fats get a bad rap. We think that's a bit unfair. Nuts inherently contain unsaturated fats (a.k.a. the ''good'' kind). That's why we use nuts like almonds, peanuts, and cashews in our bars. Well, that plus they taste delicious. 25% Less Sugar than the Average Nutrition Bar* *This Bar Contains 8g Sugar; The Average Nutrition Bar Contains 11g Sugar. Ingredients you can see & pronounce®
Ingredients
Almonds; Cranberries; Chicory Root Fiber; Sugar; Macadamia Nuts; Honey; Rice Flour; Glucose Syrup; Soy Lecithin; Sea Salt;
Nutrition Facts
servings pr container
Product Number: 00602652271502
Sale Information
On Sale!
Sales price valid from 1/22/2023 until 1/28/2023
Description
Kind Cranberry Almond with Macadamia Nuts Bars, 1.4 oz, 6 count Not all fats are created equal, and sometimes, fats get a bad rap. We think that's a bit unfair. Nuts inherently contain unsaturated fats (a.k.a. the ''good'' kind). That's why we use nuts like almonds, peanuts, and cashews in our bars. Well, that plus they taste delicious. 25% Less Sugar than the Average Nutrition Bar* *This Bar Contains 8g Sugar; The Average Nutrition Bar Contains 11g Sugar. Ingredients you can see & pronounce®
Product Number: 00602652271502
Ingredients
Almonds; Cranberries; Chicory Root Fiber; Sugar; Macadamia Nuts; Honey; Rice Flour; Glucose Syrup; Soy Lecithin; Sea Salt;
Nutrition Facts
servings pr container
Product Number: 00602652271502