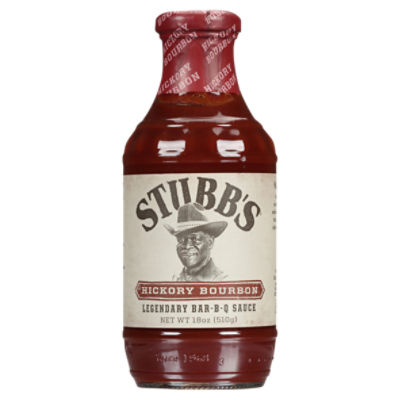 Stubb's Hickory Bourbon Barbecue Sauce, 18 oz
Sale Information
On Sale!
Sales price valid from 1/29/2023 until 2/4/2023
Description
Stubb's Hickory Bourbon Barbecue Sauce, 18 oz Back when Stubb made all of his barbecue sauce in the kitchen, his friends would ask him for a bottle of sauce to-go. Today for people who can't get enough, there's Stubb's Hickory Bourbon Barbecue Sauce - it's the perfect addition to any occasion, from weekend barbecues to Fourth of July block parties. In the beginning, Stubb would bottle his sauce in empty bourbon bottles. While our bottling methods have changed, we're still putting ingredients like tomatoes, molasses, spices, natural hickory smoke and bourbon in the sauce. Bring authentic Texas flavor to your backyard with this thick, tangy sauce that's made for slathering on ribs, chicken, wings, steak and pork. For quality barbecue done right, use Stubb's Sauces, Rubs & Marinades, all made with his secret ingredient "Love and Happiness."
Ingredients
Tomato Puree (Water, Tomato Paste); Sugar; Distilled Vinegar; Molasses; Bourbon; Salt; Corn Starch; Spices (including Red Pepper); Contains Less than 0.5% Of: Natural Flavor (including Hickory Smoke), Onion, Garlic, Guar Gum (thickener), Xanthan Gum (thickener);
Nutrition Facts
15 servings pr container
Product Number: 00734756000082
Sale Information
On Sale!
Sales price valid from 1/29/2023 until 2/4/2023
Description
Stubb's Hickory Bourbon Barbecue Sauce, 18 oz Back when Stubb made all of his barbecue sauce in the kitchen, his friends would ask him for a bottle of sauce to-go. Today for people who can't get enough, there's Stubb's Hickory Bourbon Barbecue Sauce - it's the perfect addition to any occasion, from weekend barbecues to Fourth of July block parties. In the beginning, Stubb would bottle his sauce in empty bourbon bottles. While our bottling methods have changed, we're still putting ingredients like tomatoes, molasses, spices, natural hickory smoke and bourbon in the sauce. Bring authentic Texas flavor to your backyard with this thick, tangy sauce that's made for slathering on ribs, chicken, wings, steak and pork. For quality barbecue done right, use Stubb's Sauces, Rubs & Marinades, all made with his secret ingredient "Love and Happiness."
Product Number: 00734756000082
Ingredients
Tomato Puree (Water, Tomato Paste); Sugar; Distilled Vinegar; Molasses; Bourbon; Salt; Corn Starch; Spices (including Red Pepper); Contains Less than 0.5% Of: Natural Flavor (including Hickory Smoke), Onion, Garlic, Guar Gum (thickener), Xanthan Gum (thickener);
Nutrition Facts
15 servings pr container
Product Number: 00734756000082